The Punjab Educational Endowment Fund (PEEF) under Chief Minister Merit Scholarships (CMMS) Program has launched a fully-funded CMMS PhD Foreign Scholarships for eligible Pakistani Nationals.
The students can peruse their education from the top 50 QS ranked universities in the world. The last date for the application submission for CMMS Ph.D. Foreign Scholarship is March 31, 2021.
The CMMS PhD Foreign Scholarships will accommodate 90% of the students having a Punjab domicile, however, 10% of the program fund is allocated for other federating units including AJK, Gilgit-Baltistan, and Islamabad Capital Territory.
However, the CMMS Program will not be responsible for getting admission or arranging visa for students.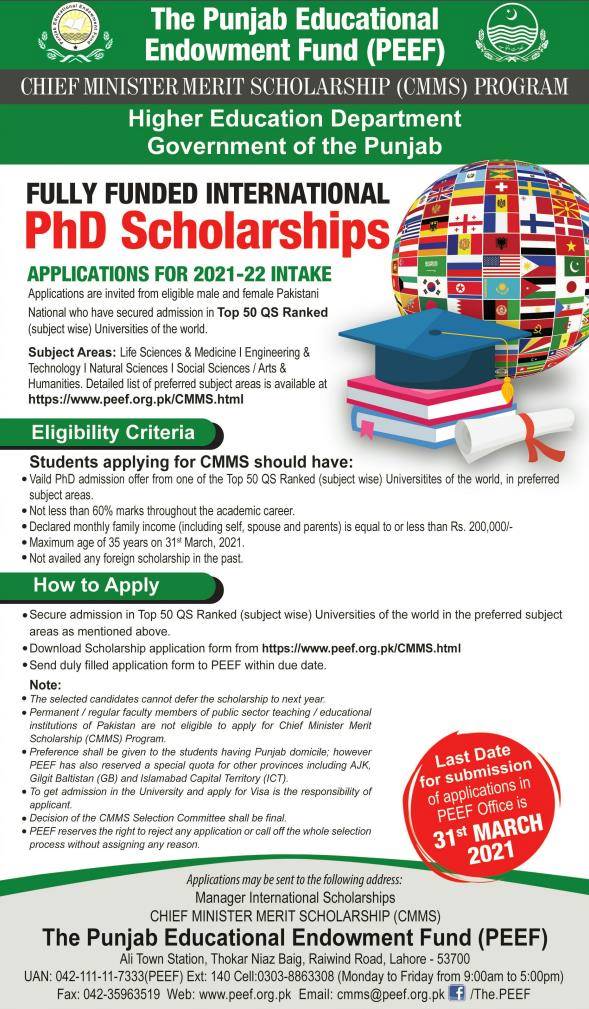 Eligibility Criteria – CMMS Program PhD Foreign Scholarships
Valid Ph.D. admission offer from one of the Top 50 (Subject Wise) Universities of the World (QS ranking) in preferred subject areas (www.peef.org.pk/CMMS.html)
Not less than 60% marks throughout the academic career.
Declared monthly family income (including self, spouse, and parents) is equal to or less than PKR. 200,000/-
Maximum age of 35 years at the time of submission of application.
Not availed any foreign scholarship in the past.
Must take up the scholarship in the year for which it is offered and the scholarship shall not be deferred to the next year.
All Pakistani nationals, both males and females are eligible to apply.
Note:
Existing permanent/regular faculty members of public sector teaching / educational institutions of Pakistan are not eligible to apply for Ph.D. Foreign Scholarship
PhD Scholarships Coverage
PhD Scholarships awarded under CMMS are fully funded and cover the following costs:
100% Tuition fees
Boarding and Lodging (as per approved rates)
Health Insurance
Airfare
Discipline wise allocation of scholarships
Allocation of the scholarships is as follows:
80 % of scholarships are reserved for science disciplines
20% of scholarships are reserved for Social Sciences/Humanities and Arts.
Geographical distribution of CMMS Program scholarships
Geographical distribution of scholarships is as follows:
90% of scholarships are awarded to the students of Punjab.
10% of scholarships have been allocated for the other federating units of Pakistan.
Required Documents
Copy of valid admission offer for Ph.D. for fall 2021 intake. Attested a copy of CNIC.
Copy of Passport.
Attested copies of all educational testimonials.
CV/ Resume.
Copy of Synopsis/ Research Proposal.
Income affidavit on legal paper (Sample attached with application form).
Copy of last paid utility bills (Electricity, Gas, and phone).
Attested copy of domicile.
Copy of previous months' payslips (Self/ parents/ guardian if applicable).
Three passport size photographs (white background).
Any other supporting documentation required to substantiate the facts given in the application
form.
Preferred Subject Areas
Engineering & Technology
Architecture
Low-Cost Housing
Urbanization
Prefabrication
Computer Sciences
Electrical & Electronic Engineering
Photovoltaic Engineering
Mechatronics
Modelling Engineering
Power Engineering
Mechanical, Aeronautical & Manufacturing Engineering
Mining
Coal Technology
Life Sciences & Medicine
Biological Sciences
Nano Biology
BioProcessing
Computational Biology
Entomology
Structural Biology
Psychology
Veterinary Sciences
Anatomy
Physiology
Pharmacology
Natural Sciences
Physics & Astronomy
Photonics
BioPhysics
Nanotechnology
Plasma Physics
Device Fabrication
Environmental Sciences
Earth & Marine Sciences
Chemistry
Nano Material Chemistry
Physical Chemistry
Inorganic Chemistry
Material Sciences
Geography: GIS
Social Sciences & Humanities/ Arts
Economics & Econometrics
Environmental Economics
Waters Economics
Energy Economics
Economics of Health
Economics of Education
Urban Economics
Public Finance
Law
Cyber Laws
International Laws
Forensic Laws
Legislative Drafting
Political & International Studies: China Studies
Sociology: Demography
Statistics: Sampling Statistics
Arts & Design
English Language and Literature
History: Historiography
Linguistics
Communication & Media Studies
Electronic Media
Social Media
Film Making
Top QS Ranked Universities
To apply for the PEEF CMMS Fully Funded Ph.D. Foreign Scholarships apply in one of the QS World University Ranking by subject. Check the list of Universities by clicking on the following link:
How to Apply for CMMS Ph.D. Foreign Scholarship 2021
Secure admission in Top 50 QS Ranked (subject wise) Universities of the world in the preferred subject areas as mentioned above.
The scholarship application form can be downloaded from https:llwww.peef.org.pk/cmms.html
Send duly filled application form to PEEF within due date.
Note:
The selected candidates cannot defer the scholarship to next year.
Permanent/regular faculty members of public sector teaching / educational institutions of Pakistan are not eligible to apply for the Chief Minister Merit Scholarship (CMMS) Program.
To get admission to the University and apply for Visa is the responsibility of the applicant.
The decision of the Scholarship Selection Committee shall be final.
PEEF reserves the right to reject any application or call off the whole selection process without assigning any reason.
The Last Date for the receipt of applications in PEEF Office is March 31, 2021
Download Application Form
The application form for the CMMS Ph.D. Foreign Scholarship (2021-22) For Ph.D. level can be downloaded from the following link
Scholarship Application Form (2021-22) For PhD Level
Instruction For Filling Application Form
Read every field carefully, it is advised to photocopy the form and fill it before filling the original application form to make sure all the information is correct and final.
Answer all questions. Those not applicable should be marked "N/A".
For family financial reporting, parents/ guardians should be consulted.
Fields marked with a tick mark (√) should only be answered in the same.
Do not provide false or incomplete information.
Use an extra sheet (If required).
Ensure that you have attached all required documents by completing and ticking the
checklist.
READ MORE: HEC Announces Stipendium Hungaricum Scholarship Programme 2021
READ MORE: The Great Scholarship Program UK 2021 for Pakistan [Details]
READ MORE: Milepost One: Warren Wilson College Offers Full Scholarship
READ MORE : SCHOLARSHIPS
Follow INCPAK on Facebook / Twitter / Instagram for updates.