Ufone customers can avail free Facebook application for Prepaid and Postpaid users without any additional subscription fee.
Ufone prepaid users can avail "Free Basics Offers" Just by dialing Free Facebook code *7694# from their smartphones and Enjoy Free Facebook and messenger application.
Ufone Free Basics offer code *7649#
This offer is valid for Ufone Postpaid users as well.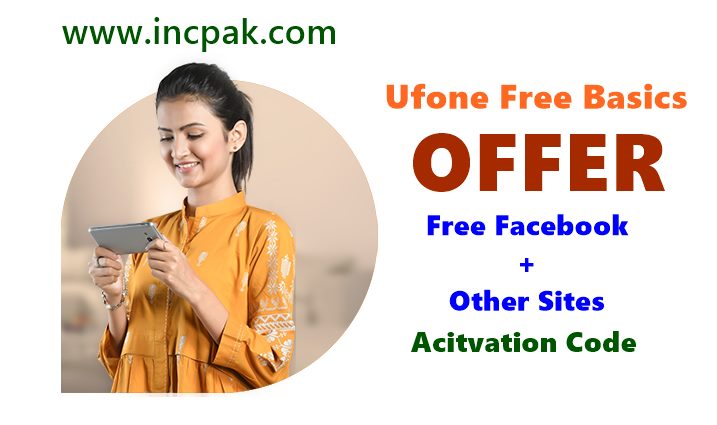 Ufone Free Basics Offer
Ufone Free Basics offer allows the user to remain in touch with friends and family members.
Ufone & Facebook bring you Free Facebook where you can use Facebook absolutely free of cost!
Ufone Prepaid and Postpaid users can share videos, images, documents, update status and also use Facebook messenger calling feature.
There are some other sites which are included in Ufone Free Basics offer such as
Wikipedia
Accuweather
WikiHow
Bing
However, Ufone Free Basics offer does not support Opera Mini or UC Browser.
Third-party links and sites are not for free while using Ufone Basics Free offer, It may deduct your balance from your account.
Other Offers by Ufone
Ufone Free Facebook and WhatsApp Package:
Besides, Ufone Basics Offer, Customers can avail "Ufone Social Daily Package" for just Rs. 5 including Tax for 24 hours (Per Day) which includes 100 MB for Facebook, Whatsapp and Twitter.
100 MB FREE Internet Data (Facebook, Twitter, WhatsApp)
Offer Price is Rs. 5 (Including tax)
Offer Validity is 1 Day
Ufone FREE Facebook Code 2019 is *4422#
To Check remaining MBs please dial *706#
Buckets can be subscribed by dialing *3#
Terms & Conditions
There are no subscription charges for this offer.
Subscription to this offer is upon selecting Free Facebook option by the user.
The service is available for all Prepaid and Postpay customers who have independently subscribed to use Facebook browser and applications.
Upon switching to the option of the paid version, default internet charges will apply.
This is a limited time offer and is intended for use as is.
The service is available on Android app and browser and on iOS browser only. The service is not supported on Opera Mini and UC Browser.
By subscribing, customers consent to the sharing of basic usage details and data with Ufone and Facebook to assist us in analyzing service performance.
The service may contain links to other sites. If you click on any third-party link, you will be directed to that site. Note that these external sites are not operated by us. Therefore, we strongly advise you to review the Privacy Policy of these websites. We have no control over and assume no responsibility for the content, privacy policies, or practices of any third-party sites or services.
It is advised to review this page periodically for any changes in terms and conditions or important notification. These terms and changes are effective immediately after they are posted on this page.
If you have any questions or suggestions, do not hesitate to write us at customercare@ufone.com.
INCPAK Packages provides all the details of SCOM, Telenor, Jazz /Warid, Ufone and Zong call,data packages information.

Ufone Other Packages
Follow INCPAK on Facebook / Twitter / Instagram for updates.