At least 40 people were killed and nearly 100 injured after a train accident that took place near Daharki, a city located in Ghotki District of Sindh on Monday, said police and rescue officials.
The train accident took place after the Millat Express (headed from Karachi to Sargodha) derailed and collided with Sir Syed Express (coming from Rawalpindi). The trains collided near the Raiti Railway Station in Ghotki District of Sindh around 03.30am, said the spokesperson for Pakistan Railways.
Ghotki SSP Umar Tufail confirmed that 40 people had died in the incident. "Thirty eight bodies have been shifted to hospitals and two bodies are being retrieved," he said. He said that a list is being compiled of the deceased, adding that 25 injured were in critical condition.
Meanwhile, the Pakistan Railways released a statement regarding the incident, "The Millat Express train left Daharki station at 03:28am. Information was received at 03:43am that the train had derailed at 03:38am. Meanwhile, the Sir Syed Express train passed through Raiti at 03:38am. As the coaches of the derailed train were infringing the down track, the driver tried to apply emergency brakes but the locomotive hit the infringing coaches at 03:38am,"
The process of shifting the injured and the deceased to hospitals has been completed, it said, adding that giving medical attention to the injured was of the utmost priority. "Pakistan Army troops, police, the district administration and rescue workers took part in the rescue operation," the statement said.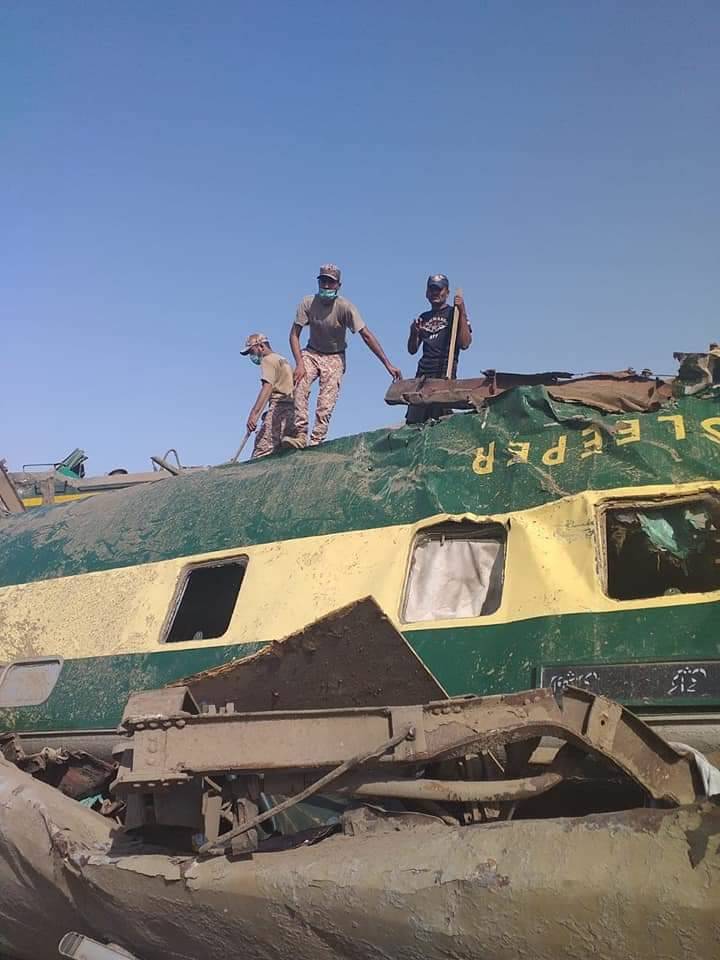 Prime Minister Imran Khan orders 'comprehensive investigation'
Prime Minister Imran Khan expressed his grief at the loss of lives resulting from the train accident in Ghotki District of Sindh and ordered a "comprehensive investigation" into the matter.
Shocked by the horrific train accident at Ghotki early this morning leaving 30 passengers dead. Have asked Railway Minister to reach site & ensure medical assistance to injured & support for families of the dead. Ordering comprehensive investigation into railway safety faultlines

— Imran Khan (@ImranKhanPTI) June 7, 2021
Read more: Protestors Set Fire To Suzuki Showroom & Shops in Bahria Town Karachi.