The mountain pass famously known as Babusar Top is finally open for tourists from 12 June 2023, Travel advisory issued by the administration for the tourists.
According to the district administration of Diamer, The snow from the highway has been removed and the highway is now open for traffic, however, "The people can travel on Babusar-Naran highway in the daytime from 9 am to 5 pm".
Babusar pass connects, Naran with Chillas and mostly remains closed due to heavy snowfall from October till June.
Travel Advisory
*بابوسر پاس کے متعلق اہم ہدایات*
بابوسر ناران روڈ کل یعنی 12 جون سے تمام سیاحوں کے لیے صبح 9 سے شام 5 بجے کے درمیان کھلا رہے گا۔ جھلکڈ اور زیرو پوائنٹ سے رات کے سفر پر پابندی لگائی گئی ہے۔
سیاح دوران سفر خصوصی احتیاطی تدابیر اختیار کریں۔
مزید معلومات، رہنمائی یا کسی بھی ہنگامی صورتحال میں محکمہ سیاحت خیبرپختونخوا کائیٹ پراجیکٹ کی ہیلپ لائن
1422 پر رابطہ کریں۔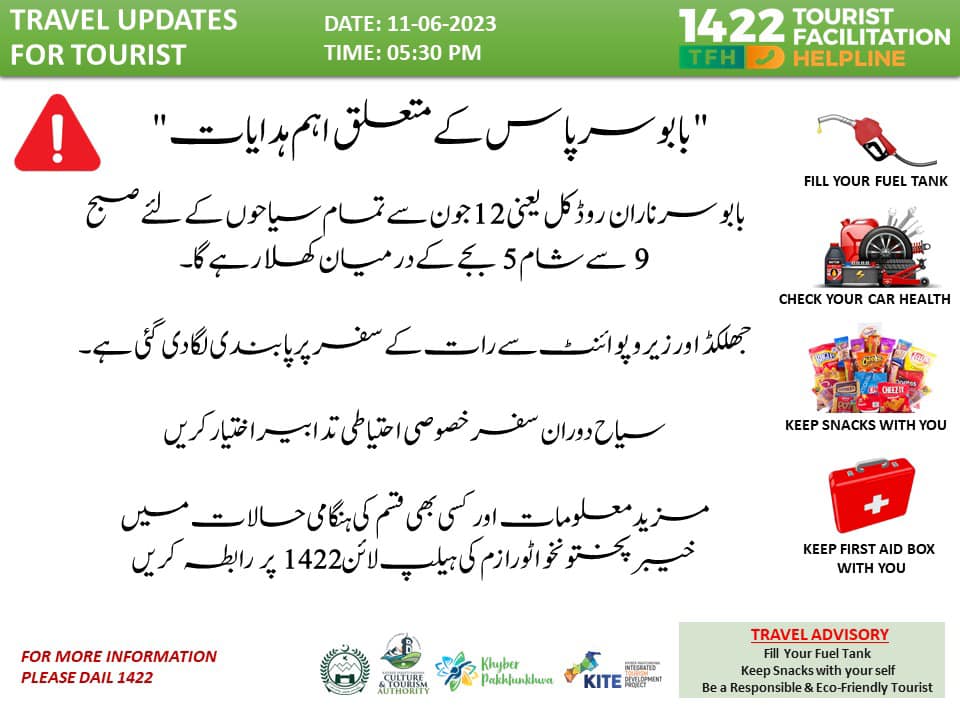 Read More: KP Changes Summer Vacations 2023 Schedule
Follow INCPAK on Facebook / Twitter / Instagram for updates.