The honorable Prime Minister Imran Khan while speaking at PM CJ Dam fundraising event talked about giving Afghanis and Bangalis Pakistani citizenship as they have been living here for 40 years.
Pakistan Tehreek e Insan (PTI) Shah Mehmood Qureshi and Jahangir Tareen signed a Memorandum of understanding (Mou) with Balochistan National Party (BNP) Sardar Akhtar Jan Mengal on 8th August before PM elections in Parliament in which, MoU clearly says (6) All Afghan refugees should be repatriated honorably to their country.
According to MoU, It was in the knowledge of Prime Minister Imran Khan that, Balochi leaders are against Aghan refugees, these refugees and illegal immigrants are directly and indirectly linked with terrorism in Balochistan and Sindh.
A copy of MoU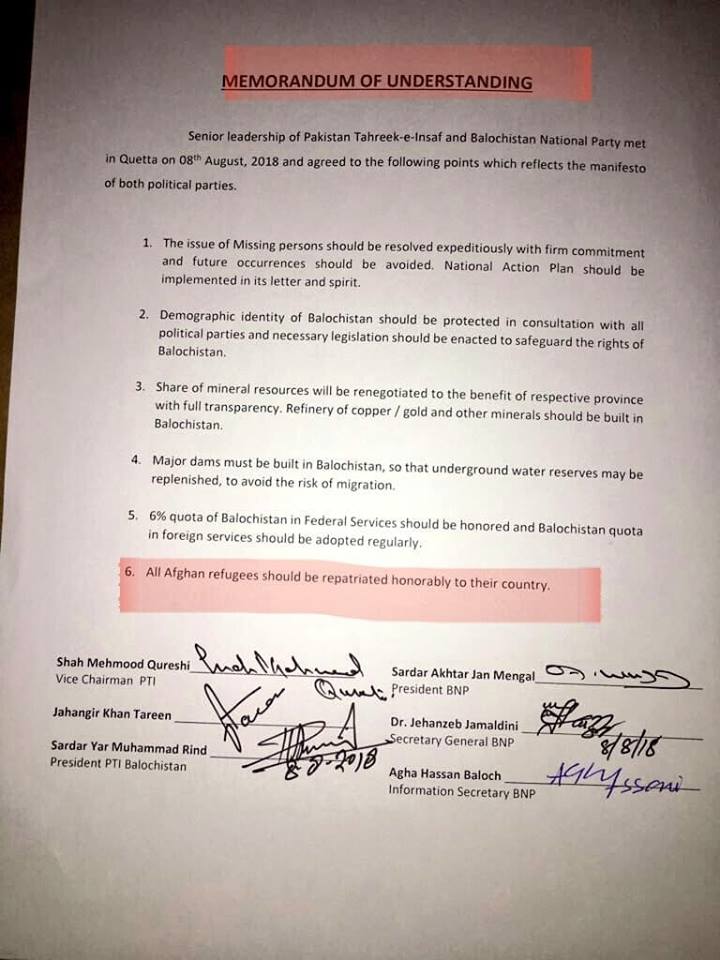 In a Parliament session held on 18 September 2018, BNP leader Akhtar Jan Mengal raised this issue on the floor of the house and Prime Minister Imran Khan did not give satisfactory answer, later after a PM said "We have not decided  yet, we need suggestions from other parties and without them it won't be possible". 
It appears Prime Minister is naive, does not understand the sensitivity of the issue, The MoUs his party signed with other Balochistan National Party is being violated and ignored.
Balochistan and Karachi have suffered a lot from Terrorism and Street crime. Indeed it is impossible to make double standard policy different for Karachi and Balochistan Province.
BNP Chairman Mr.Mengal made himself clear on this issue on the floor and on the media channel (Talk Show) later that day when a senior anchorperson and a journalist Dr.Danish asked this question to Akhtar Jan Mengal about giving citizenship to Bangalis and Afghan refugees living without citizenship in Pakistan.
According to MoU, not only the sixth point of MoU but all other five are fair and valid, and PTI led Government signed this agreement to resolve them after coming into power.
Missing Person issue is not hidden from anyone, even Chief Justice of Pakistan Justice Saqib Nisar have raised in the Supreme court asked the law enforcement agencies to bring them before court and justice. Balochis have suffered enormously due to extrajudicial killings and frequent abduction cases in Balochistan province. People seek justice from Prime Minister Imran Khan as his slogan is Naya Pakistan and Party is based on Justice.
Rights of Balochistan, Demographically ignored province of Pakistan, Neither Military nor civilian government tried to resolve the issues of Balochi people, they were ignored and only Gwadar was highlighted due to CPEC apart from this, in reality, Balochis were tagged as Terrorists and Anti-Pakistan which is totally wrong. If any Province or the people want full recognization, so they serve this the country like another Sindhi, Punjabi, and Pathan. If legislation needed, the Federal Government must address all the reservations and pass the law with immediate effect to safeguard the identity of Balochi people.
Balochistan is filled with mineral resources and The people of Balochistan deserves the due share of it. There is an urgent need to set up the industries to provide jobs for the locals. Balochistan holds the biggest share in the mining of copper and other natural resources and Federal Government must draw the line and address with Baloch parties how to build local industry there.
Water issue, Balochistan suffers the most when it comes to reservoir and water shortage as the province and the people were hardly counted among everyone else in Pakistan. Balochistan needs Dams and due share of water from the Indus Treaty. A well known Gwadar port city has no water solely dependent on water tankers. The Federal government on urgent basis sort out water management issues and announce small dams in Balochistan as the unemployment and water shortage caused the mass migration from there.
A newly elected Prime Minister cannot go on public gathering and say whatever he thinks is right until and unless he discusses it on the floor with other Parliamentarians. Balochistan and Sindh have suffered a lot due to Afghan refugees and It will not be considered wise to induct them as citizens after the damage they have done to this country.
There cannot be double standard policies by Federation on illegal immigrants and refugees. Prime Minister have to listen and must address these sensitive issues according to MoU his party has signed, otherwise, there's no hope of change in Balochistan and Sindh.
PTI Government's first priority should be Balochistan, A province with natural resources and the Patriots shall be addressed. The Minister Of Pakistan Imran Khan must acknowledge the MoU.
I hope, I have explained what Balochis want as they have nothing against the state and the policies. Afghanistan or India takes advantage of Pakistan's mistakes in the past. Don't let the history repeat itself, Save Balochistan.
Pakistan Zindabad.
By Farhan Imaan Abro