The Human Rights Watch (HRW) has called for a ban on the 'Two Finger Virginity Test' in Pakistan terming it as an 'abusive practice' and a blatant disregard to woman's right to dignity and privacy.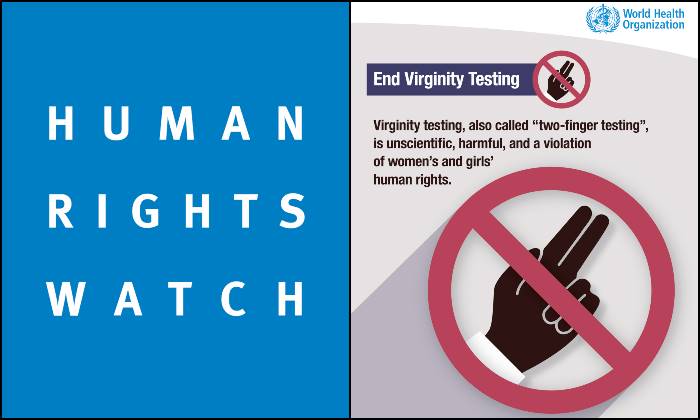 A petition has been filed in the Lahore High Court (LHC) calling for a ban to the 'Two Finger Virginity Test' for rape victims calling it an unconstitutional act and an invasion of privacy and disrespect to women.
Read more: Woman raped during robbery in Multan.
According to the Ministry of Law and Justice, the test is conducted in a manner which is against Article 14 of the Constitution which prescribes to the fundamental right of 'dignity of man'.
Furthermore, this test came into practice after Article 151(4) of the Qanoon-e-Shahadat Order, 1984 permitted the accused in a sexual assault case to challenge the character of a victim as a defence.
However, through section 16 if Act No. XLIV of 2016, the previous article has been omitted meaning that the 'Two Finger Virginity Test' cannot be permitted
The Ministry for Law and Justice has called for end to these examinations stating:
'Virginity examinations' have long been a routine part of criminal proceedings in Pakistan,

They are based on the unscientific and misogynist assumption that a woman 'habituated to sexual intercourse' is less likely to have been raped. Police and prosecutors in Pakistan have used these tests to accuse rape victims of illegal sexual intercourse and treat them as criminals.
The Punjab Government has stated that it will omit the use of 'Two Finger Test' during examination of female assault victims unless necessary for detection of injuries or medical treatment.
Even the World Health Organization (WHO) has stated that the 'Two Finger Test' has no medical grounds to be included in a inquiry related to sexual assault of a female and it only leads to more trauma for the victim.
Regardless of the victim's previous sexual history, it should be noted that there is a difference between consensual and non consensual sex (RAPE) the person responsible for such an act should be punished to the full extent of the law.
Read more: Zainab Alert App Launched in Pakistan.