Prime Minister Imran Khan launched the Ehsaas Waseela e Taleem Digital Program for primary schools students during his visit to Balochistan on Friday.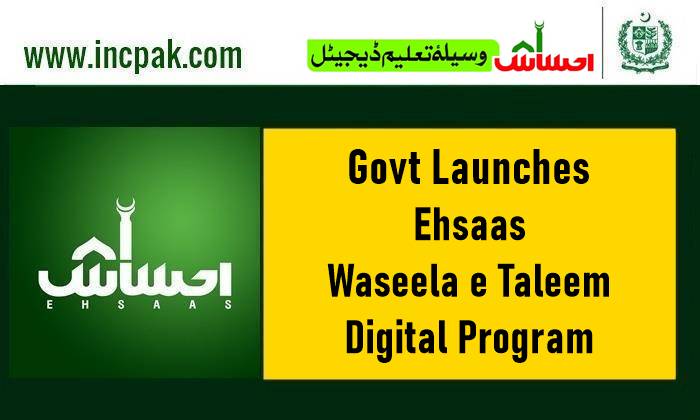 According to Special Assistant to Prime Minister on Poverty Alleviation and Social Safety Dr Sania Nishtar, the Ehsaas Waseela e Taleem Digital Program has been made into an end-to-end digital system.
This Primary Education Conditional Cash Transfer Program has been around since 2012 in selected cities but now it is being expanded nationwide under the the "Ehsaas umbrella" according to the special assistant.
She also mentioned that the programme encountered challenges in the past due to paper based approach, low stipend amount, high administrative cost, weak compliance monitoring but all these are issues of the past with the digitization of the initiative.
The new Ehsaas Waseela e Taleem Digital Program ensures there are no false inclusions through the verification process done with the help of the Ehsaas National Socio-economic Registry.
The verification process also requires validating of the B-form through an online connection with NADRA to ensure that no 'ghost child is entered in the system to misuse the program.
"School data is verified from provincial school management information systems and from the list of Waseela-e-Taleem Digital prequalified schools so that only schools where due diligence has been done become part of the system," the special assistant explained.
Furthermore, all information of students enrolled in the Ehsaas Waseela e Taleem Programme is archived with their pictures, admission slips and all forms of related documentation.
"To ensure compliance, monitors don't game the system and fill forms at home, the system asks them to verify their geolocation outside the school before filling attendance compliance forms." says Dr Sania Nisthar.
The stipend given to primary school children has also been revised as per new Ehsaas policy. According to Dr Sania Nishtar, the poorest families will be provided conditional cash grants of Rs. 1,500 for boy and Rs. 2,000 for girl on a quarterly basis given that 70 percent attendance is maintained.
The special assistant detailed that a total of Rs80 billion will be spent on the education program in the next four years to address the problem of out of school children.
Read more: Mera Pakistan Mera Ghar Loan Application [Complete Information].