Islamabad: October 9, 2018: CDA conducted anti-encroachment operation along with Building Control-I, CDA and removed the illegal construction from the parking and pathways of surrounding areas of F-8 Markaz, today. Anti Encroachment Operation has been conducted with the assistance of District Administration, Islamabad and ICT Police, by using heavy machinery to remove the illegal construction and clear the footpaths, passages and parking area for the general public. Before conducting the anti encroachments operation, notices were served to illegal encroachers to remove these encroachments voluntarily.
Read More: Islamabad Zone Terminates After 17 Series of Sectors: CDA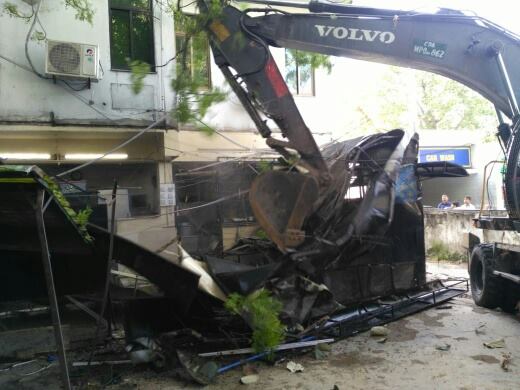 During the operation, guard room established in a container at southern corner, up-down barrier, iron grill erected around public parking area of the eastern, northern and southern side, security post at the northern corner, advertising boards installed at public parking area was removed from the parking area of Ali Medical centre F-8 Markaz.
While numerous planters placed at western footpath and advertising board installed on the footpath by the Islamabad Diagnostic Centre were also removed. Barbed wired erected adjacent to the Roots Private School System building were removed and footpaths were opened for the access of general public.
On this occasion, parking area of Mobilink Head Office were cleared by removing/demolishing up down barrier, 02 Nos security guard cabin at southern entrance point, barbed wire / fence along with planters erected at eastern, southern and northern side, entry point at northern side, 02 up down barriers, a guard post at northern side, revolving gate at northern entry point, security clearance point setup, portable washroom setup and security cabin at western corner. A shed in a parking area and an iron grill in front of the parking area of OGDCL Medical Center building were also removed. Similarly, shed erected by photo plus shop, F-8 Markaz on public pathway was removed.
Read More: CDA Cancels the layout plan of Jinnah Garden Housing Scheme-1, Islamabad
Furthermore, some encroacher removed their encroachments himself voluntarily and more sheds and an illegal kitchen setup established by Dainty foods was also removed and petrol pump administration removed its portable tyre shop voluntarily.