The death toll from the building collapse in Golimar area of Karachi has risen to 18 and more people are believed to be trapped under the rubble and rescue operations are underway.
According to sources, the rescue operations are slow because more people are believed to be trapped under the rubble and there is danger of the nearby buildings collapsing causing even more damage.
The Senior Superintendent of Police (SSP) Arif Aslam Rao said:
The nearby buildings have been vacated as well due to this situation,
Rescue teams from the Pakistan army, Sindh Rangers, Police, Fire Brigade, Edhi Foundation and others are all on the scene and working to recover people trapped under the rubble.
Read more: Pakistani comedian Amanullah Khan passes away in Lahore.
Minister for local government Nasir Hussain Shah says that strict action will be taken against all illegal buidlings in the city however right now, the main focus is rescuing everyone involved in the current tragedy.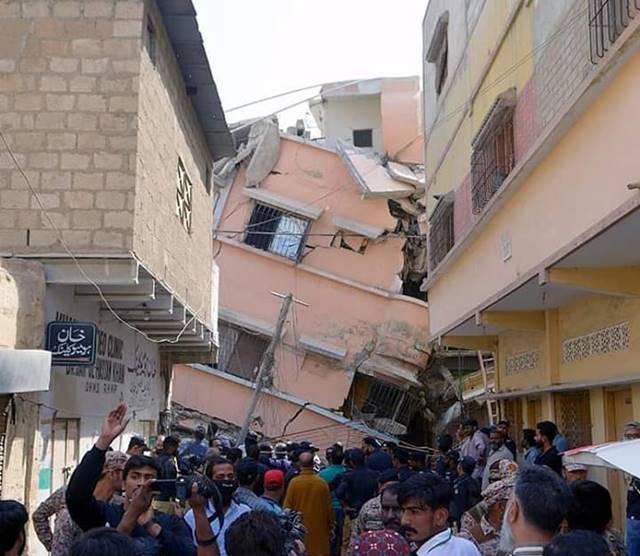 A First Information Report (FIR) has been registered at Rizvia Police Station against the builder owner which includes clauses 119 (Qisas), 337 (causing bodily harm), 322 (causing death without intention), 190 (aiding and abetting) and 427 (mischief causing material damage).
Twitter has been trending all day with the hashtags #KarachiBuildingCollapse and #GolimarTragedy with people expressing their sadness over the tragic incident.
Read more: Coronavirus: Sixth case has been confirmed in Pakistan.