ISLAMABAD: Kashmir Solidarity Day is being observed today across the country including Azad Jammu and Kashmir to condemn the ongoing state terrorism and violence by the Indian Army in Occupied Kashmir.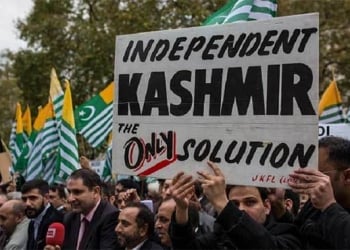 One Minute of silence was observed at 10:00 am (PST) to pay homage to the martyrs of the liberation struggle of Indian Occupied Kashmir.
President of Pakistan Dr.Arif Alvi arrived in Muzaffarabad earlier this morning to address the session of the AJK Legislative Assembly.
Read More: PM condemns the killing of innocent Kashmiris in IoK
President Alvi was presented with Guard of Honour on the occasion meanwhile he also participated in a function in the Capital of Pakistan Islamabad.
Human chains were formed at Kohala, Mangla, Holar and Azad Pattan points linking Pakistan and Azad Kashmir.
News and Current Affairs Channel of Radio Pakistan is broadcasting special marathon transmission in connection with Kashmir Solidarity Day today.
A key ceremony to mark the Kashmir Solidarity Day was held at D-Chowk in Islamabad today.
It was attended by Minister for Kashmir Affairs Ali Amin Gandapur, parliamentarians, students and people from various walks of life.
Addressing the ceremony, the Minister for Kashmir Affairs said people and government of Pakistan fully stand with their Kashmiri brethren in their just struggle for freedom.
Ali Amin Gandapur said international community should take note of the barbarities committed by Indian troops on innocent Kashmiris for raising their voice of liberation.
Read More: Indian troops martyr 8 youth in Indian Occupied Kashmir
On the occasion, a human chain was formed by the participants to express solidarity with their Kashmiri brethren.
According to sources, 18 youth martyred in January this year, Kashmir Solidarity day is being observed whole hearted supporting Kashmiri people for their inalienable right to self-determination under UN resolution
Also Read: Kashmiris observing BLACK DAY Today