Social media is trending with #HaniBaloch as people express their sadness over the death of medical student Hani Baloch in Quetta but there are two sides arguing with each other over the circumstances surrounding the cause of her death.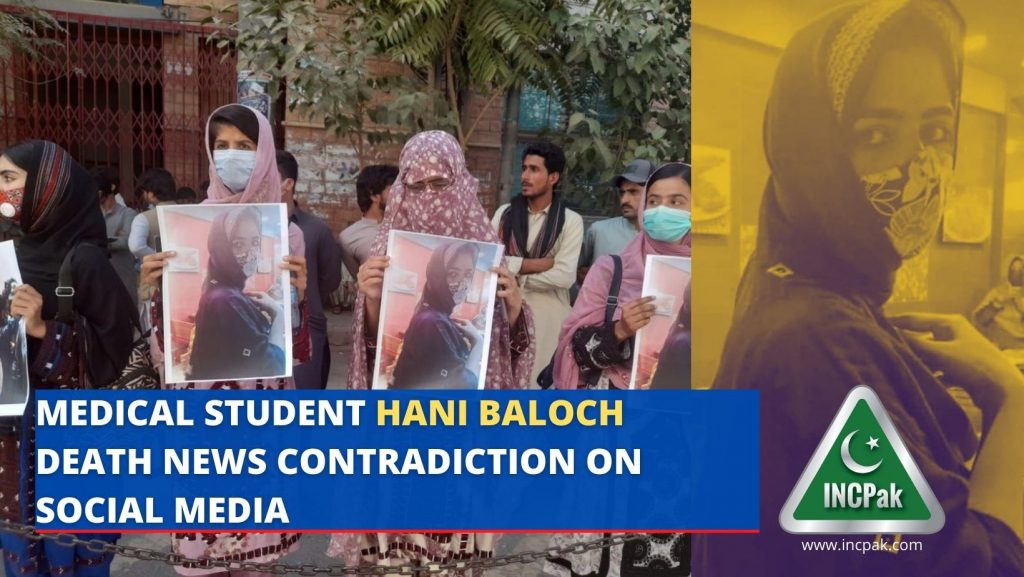 There are several Twitter users claiming that Hani Baloch died of police brutality, however, there is another side which is claiming that Hani Baloch died of natural causes as she was already ill.
Hani Baloch was an active participant of the protests against Pakistan Medical Commission (PMC) in Quetta. The students were protesting against the MDCAT examination 2021. It is pertinent to mention that several medical students in Islamabad have also taken D-Chowk protesting against the examination. However, the mainstream media is ignoring the matter.
Hani Baloch Cause of Death
According to the details, Hani Baloch died of natural causes and not because of police brutality. This was confirmed by her cousin Aurangzeb in a statement which was shared by Chief Minister of Balochistan Jam Kamal Khan on Twitter. However, there are many people claiming that this seems to be a forced statement being given by Aurangzeb as he does not want to be amongst the missing persons.
I appreciate the fairness by Aurangzeb by clarifying the reality

Mistrust, distances and grudges are developed by miss and fake news. pic.twitter.com/LSykY0DWmb

— Jam Kamal Khan (@jam_kamal) September 26, 2021
He mentioned that Hani Baloch was already ill since the last protest held on 23 September 2021 and she died of natural causes. He added that all news regarding police brutality is fake and just a propaganda being spread on social media.
Read more: Madrassa Teacher Rapes & Impregnates 13-Year-Old.
Follow INCPAK on Facebook / Twitter / Instagram for updates.