LAHORE: The National Command and Operations Centre (NCOC) has finalized Cattle Markets SOPs in a meeting held today presided over by NCOC chairman and Minister for Development and Planning Asad Umar.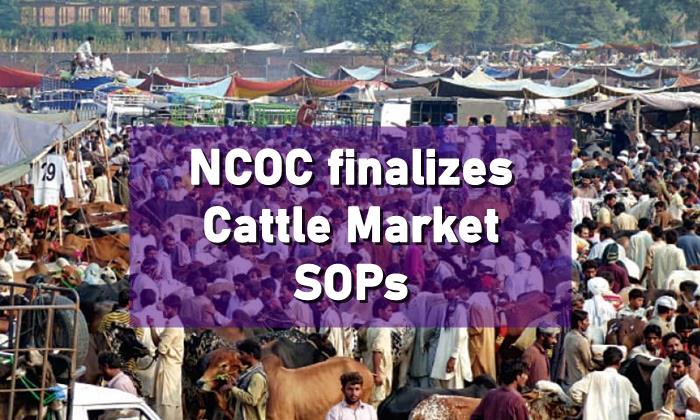 It was told that around 700 Cattle Markets will be setup across Pakistan ahead of Eid-ul-Azha but they will be forwarded guidelines that are required to be implemented strictly to control the spread of the coronavirus.
All Cattle Markets will follow given standard operating procedures (SOPs) and none of these markets will be allowed to setup inside city limits for risk of spreading the virus transporting cattle.
Read more: Naya Pakistan Housing Scheme to hold lucky draw of 1.6 million applicants.
Cattle Markets will be allowed to operate from 6am to 7pm and everyone coming these markets will be thoroughly screened and required to wear a face mask. Furthermore, only a designated number of people shall be allowed inside.
Asad Umar lauds Punjab govt for coronavirus measures
At the NCOC meeting Asad Umar also lauded the efforts of the Punjab Government and Chief Minister Usman Buzdar for taking timely measures to control the spread of the coronavirus.
Smart Lockdown Situation
The smart lockdown situation was also discussed which has been imposed in many areas across the country due to high number of coronavirus cases being detected.
According to the NCOC there are 30 cities with 321 smart lockdowns that are being enforced currently.
Read more: Punjab Govt approves authority for development of most modern city.