ISLAMABAD: Saudi Crown Prince Mohammad bin Salman (MBS) arrived in Islamabad on Sunday. Prime Minister Imran Khan and Chief Of Army Staff Gen. Qamar Javed Bajwa recived the guest from Nur Khan Airbase, Rawalpindi.
Saudi Crown Prince Muhammad bin Salman was given a red carpet welcome and a 21 gun salute in his honor.
PM Imran Khan himself drove the car to take Saudi Crown Prince to PM House who sat on the front passenger seat beside him
Formations of JF-17 & F-16s of PAF escorting the aircraft of Saudi Crown Prince Mohammad Bin Salman.
Read More: JF-17 Thunder Jets will Escort Jet of Crown Prince
Around 7 agreements signed between the two countries include areas like Energy, Agriculture, Tourism and Mining.
Agreements signed between two countries in various sectors including energy, petrochemical, sports, tourism & other sectors are very important for Pakistan.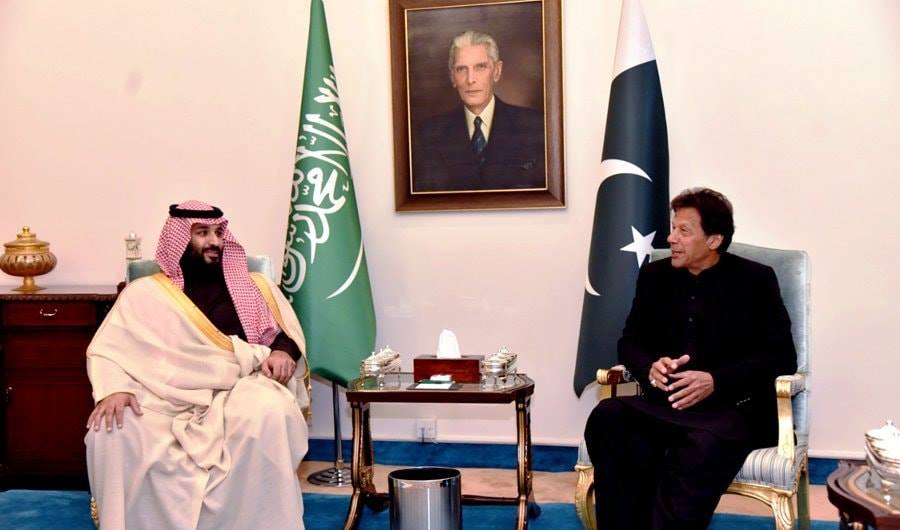 The sectors include cooperation in the production of electricity, the establishment of refinery petrochemical plant, promotion of sports & technical assistance in standardization sector.
Pakistan & Saudi Arabia are enjoying historical relations, which are now focused on investment,says PM Imran Khan while addressing the banquet ceremony in honor of Saudi Crown Prince.
Read More: One on One Meeting between PM Khan and His Royal Highness Prince Mohammad bin Salman
CPEC is a game changer offering connectivity & opportunities of economic development & progress. Saudi Arabia should participate in such ventures for regional development – PM Khan
Prime Minister Imran Khan thanked Saudi Arabia for commendable assistance and investments in Pakistan and said Saudi Arabia has supported Pakistan in all critical and difficult times.
The investments by Saudi Arabia in Pakistan are in the interest of both countries. Pakistan has huge potential in tourism &Saudi Arabia's cooperation in this sector would benefit a lot – Khan added.
PM Khan requested Crown Prince to relax immigration process and
Prime Minister Imran Khan requested him to help solve the hardship of Pakistani laborers working to build the Kingdom of Saudi Arabia.
Consider me an ambassador for Pakistan in Saudi Arabia, my first foreign visit as Crown Prince was to Pakistan – MBS.
Saudi Arabia, Pakistan sign deals worth $20 billion dollars. The single largest investment by Saudi Arabia in Pakistan so far. It includes a huge oil refinery which will save Pakistan $1.2 billion dollars a year by cutting oil import bill as well as token investments in vital segments of Pakistan's economy.