RAWALPINDI: Pakistan Railways has announced it is reducing the fare for its express passenger train Green Line that runs between Karachi and Rawalpindi by 10%.
The Divisional Commercial Officer (DCO) of Pakistan Railways Rawalpindi, Raza Ali Habib, told APP that "Pakistan Railways have reduced over Rs 600 from the old fare Rs 5990 to the new fare of Rs 5340 for the passengers travelling from Rawalpindi to Karachi."
From Rawalpindi to Lahore the train fare for Green Line has been fixed at Rs 1,200 while from Rawalpindi to Khanewal the passengers will be charged Rs 2410.
Similarly, Rs 3180 is the new fare for travelling from Rawalpindi to Bahawalpur and Rs 4430 from Rawalpindi to Rohri.
Green Line passengers will now pay Rs 5060 for their journey between Rawalpindi to Hyderabad.
New Green Line Fares
| Routes | Fare in Rupees |
| --- | --- |
| Rawalpindi to Karachi | Rs. 5,340 |
| Rawalpindi to Lahore | Rs 1,200 |
| Rawalpindi to Khanewal | Rs 2,410 |
| Rawalpindi to Bahawalpur | Rs 3,180 |
| Rawalpindi to Rohri | Rs 4,430 |
| Rawalpindi to Hyderabad | Rs 5,060 |
Habib informed APP that "due to enhanced security measures, quality service and punctuality, the number of passengers travelling via train is increasing day by day and over 42,56,318 passengers traveled through the rail service during 2017 from Rawalpindi Division."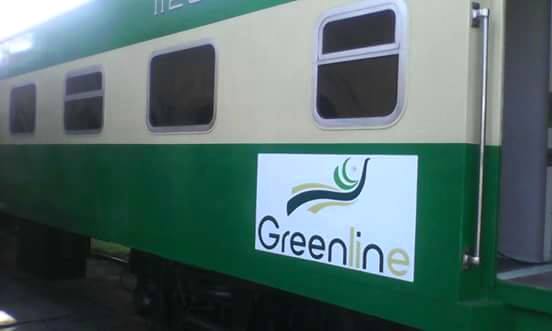 The division earned Rs 1864213 million last year, he added.
Habib continued that "Pakistan Railways, Rawalpindi Division have earned Rs1612.618 million against the set target of Rs1595.851 million up to March 20, during the last nine months of financial year 2017-18.
Habib further said that Rawalpindi division generated Rs16.767 million additional revenues during the period particularly from passenger service.
The income of Rawalpindi Railways passenger trains remained at Rs1864.213 million, revenue generated by freight trains was Rs 448.728 million and other heads contributed Rs 290.919 million during last year, he added.
"Due to continuous efforts and hardworking of railways management, officers and workers, Rawalpindi Division's income increased considerably," he said.
Habib also said, "total earnings of Pakistan Railways including passengers, freight and other services were Rs18 billion in 2013 however, this year in around nine months of 2017-18 financial year, approximately Rs33549.928 million have been earned against the set target of Rs32606.245 million with Rs 943.683 million additional revenue."