ISLAMABAD: Prime Minister of Pakistan Imran Khan will inaugurate VIP Train 'Jinnah Express' a new Non-Stop VIP train (31UP) and (32Down) from Lahore Cantt to Karachi Cantt and vice versa on March 30th, 2019.
The Pakistan Railways has completed all arrangements for the inauguration of a new Non-Stop luxurious train 'Jinnah Express'
Jinnah Express will be consisting of 12 Air-conditioned Business class coaches and a dinning car.
According to Pakistan Railways, Jinnah Express Lahore to Karachi Fare is Rs.6500/- which includes, Breakfast, Dinner and Tea refreshment during the journey.
For a childing boarding on a train will pay Rs.5250/- for the journey.
The Fare of Rs.6500/- is fixed for the passengers boarding or leaving at any stations.
The Journey duration of Jinnah Express will be 15 hours. The VIP train will depart from Karachi Cantt at 3:00 pm and reach Lahore Cantt at 7:30am next morning.
From Lahore Cantt depart time at 2:30pm and reach Karachi Cantt 7:00am next morning.
Jinnah Express Time Schedule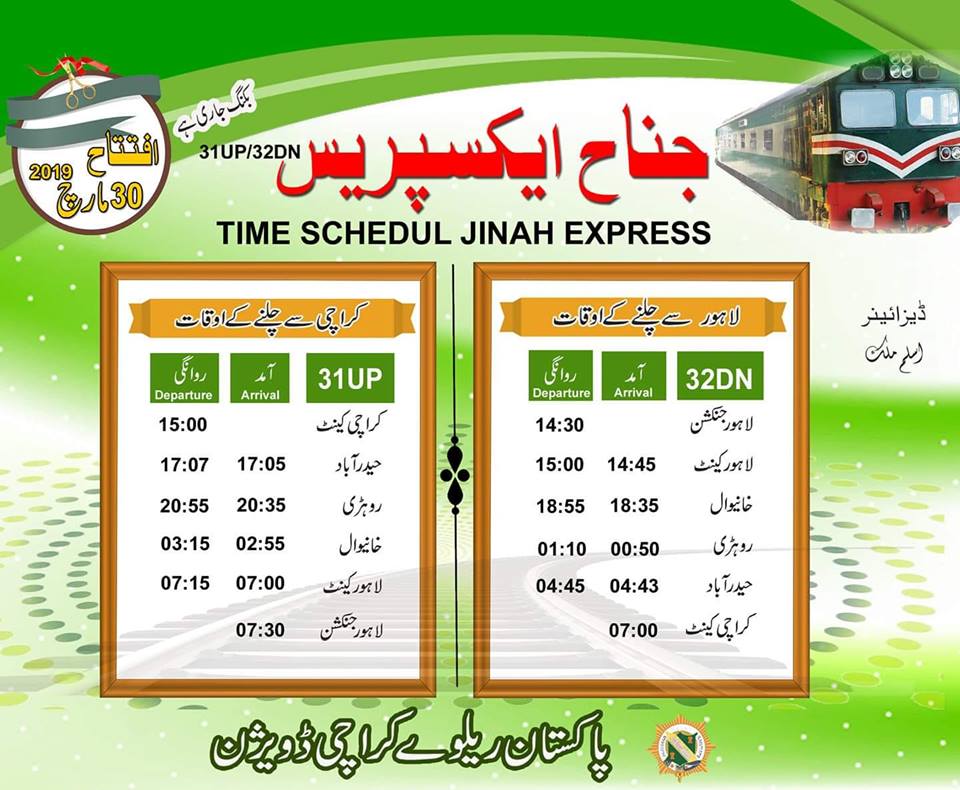 PM Khan will inaugurate Jinnah Express on March 30th, 2019.
Read More: SCO Smart Tv app channels list