RAWALPINDI: PML-N leader Hanif Abbasi is shifted to Attock Jail after photograph with former Prime Minister Nawaz Sharif came in the notice.
Hanif Abbasi was shifted early Saturday to District Jail Attock from Rawalpindi Adiala Jail. He was shifted with tight security.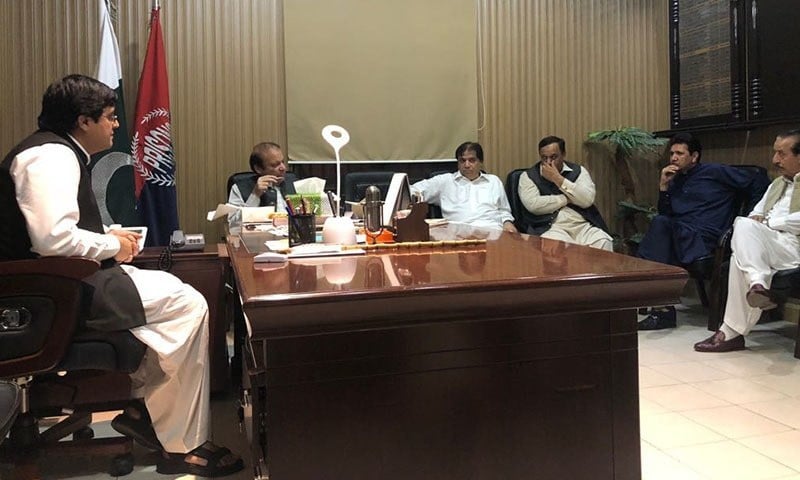 The decision was taken by DIG Rawalpindi region on two – member committee's discovery about his photograph with former Prime Minister Nawaz Sharif. Former Prime Minister Nawaz Sharif was imprisoned in the same Adiala Jail at that time. Abbasi was shifted on the directives of DIG Rawalpindi region.
Abbasi on July 22 was sentenced to life imprisonment by Anti-Narcotics Court in the ephedrine quota case. He is accused of obtaining a large amount of ephedrine, which is a controlled substance and then selling it to narcotic smugglers.
seven other accused in the case were given benefit of doubt by the court.
READ  MORE: PML-N's Hanif Abbasi goes to Jail – sentenced to life in prison
The court in its ruling stated 363kg of ephedrine quota could be accounted for, further added that Abbasi failed to provide evidence of the use of the remaining quantity of the drug.
For misuse of 500kg of ephedrine which he obtained for his company, Gray Pharmaceutical, in 2010, ANF had registered a case against PML-N leader and his accomplices in June 2012 under sections 9-C, 14 and 15 of the Control of Narcotics Substances (CNS) Act
Hanif Abbasi appealed before Lahore High Court Rawalpindi Bench against his conviction which was taken up on August 16.
 PML-N President Shahbaz Sharif Reaction To Hanif Abbasi Case
PML-N President Shahbaz Sharif said, "the timing and manner of the judgment of Hanif Abbasi clearly shows a discriminatory attitude towards PML-N".
Mr. Sharif said that all the cases against other politicians including Imran Khan and Asif Ali Zardari have been deferred till after elections. "Only an exception has been made in the case of PML-N's Hanif Abbasi."