ISLAMABAD: Pakistan Tehreek-e-Insaf (PTI) leader Dr Shahbaz Gill has been appointed as Special Assistant to Prime Minister (SAPM) on Political Communication according to a notification issued by the Government of Pakistan Cabinet Division.
The appointment of Dr Shahbaz Gill as SAPM on Political Communication is made on honorary basis according to the notification..
Read more: Excise & Taxation Department Sindh opens Motor Registration Wings.
The notification issued by the Cabinet Division read:
The Prime Minister, In terms of rule 4(6) of the Rules of Business, 1973 read with serial No.1 A or Schedule-V-A of the said Rules has been pleased to appoint Dr. Shahbaz Gill as Special Assistant to the Prime Minister on Political Communication, with immediate effect.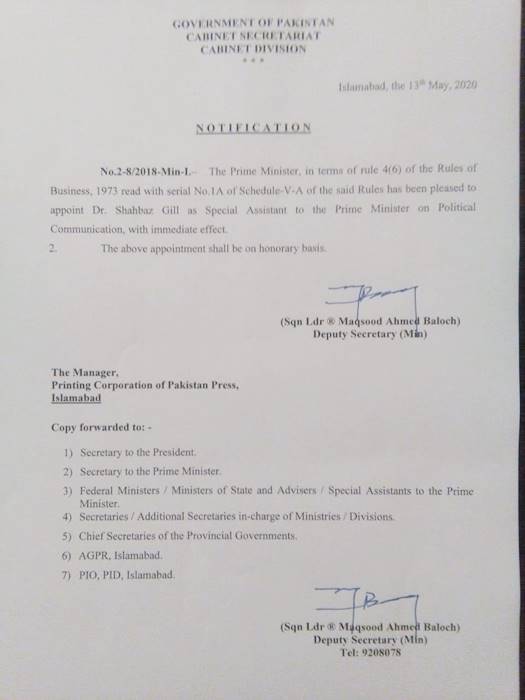 Dr Shahbaz Gill worked as the spokesperson to the Chief Minister of Punjab Usman Buzdar before resigning last year with a hand-written note that said:
I hereby resign from the post of Official Spokesperson to CM Punjab,
However, he did not provide details as to why he resigned from the position.
This new appointment brings the cabinet size of Prime Minister Imran Khan to 50 members including 27 federal ministers, four state ministers, five advisers and 14 special assistants.
Read more: Maira Shahbaz: Christian teen abducted, still missing after 24 days.