Hi Speed went one step further and launched their Hi Speed Infinity 150 cafe racer motorcycle and here you will find the complete review along with price and specifications of the motorcycle. There has been no motorcycle in the cafe racer segment in Pakistan, before this one, limited options were available like Suzuki GS-150 and Honda CG-125 in market however they weren't even closed to perfection as Infinity 150 is.
This could not have been possible if Yamaha had not changed the trend and mindset of Pakistani bikers by launching their Yamaha YBR 125 and setting the trend for the new generation of bikers in Pakistan. Then later on Yamaha launched their YBR 125G in a dual sports sort of look with tall suspension and tires introducing more variety in the market and they have been successful so far, but there's never been a cafe racer bike in the Pakistani motorcycle segment.
Read More: Yamaha YBR 125G Motorbike Detailed Review – Pros and Cons.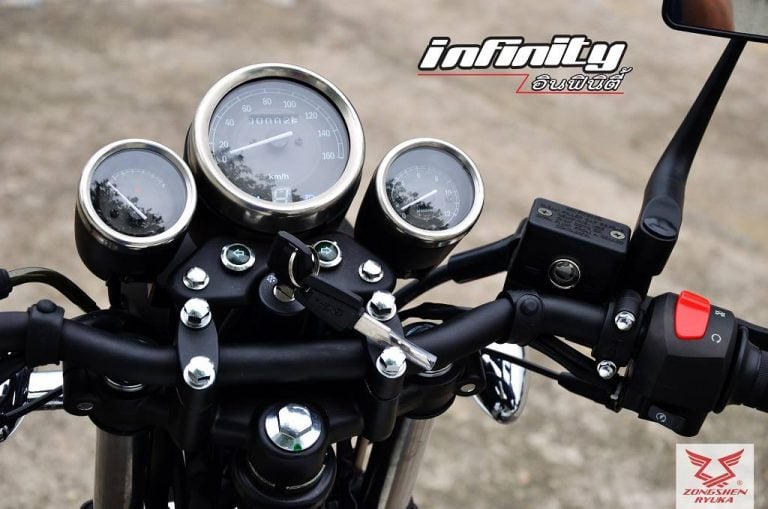 Cafe Racer Origin
People in Pakistan don't even know the true meaning of a cafe racer or the difference between a brat type build and a cafe racer build. Here is some information on what a Cafe Racer is and how the term "Cafe Racer" originated.
A cafe racer is a lightweight, lightly powered motorcycle optimized for speed and handling rather than comfort – and for quick rides over short distances. With bodywork and control layout recalling early-1960s Grand Prix road racing motorcycles, cafe racers are noted for their visual minimalism, featuring low-mounted handlebars, prominent seat cowling, and elongated fuel tank – and frequently knee-grips indented in the fuel tank.
The term developed among British motorcycle enthusiasts of the early 1960s from Watford, and London, specifically the Rocker or "Ton-Up Boys" subculture, where the bikes were used for short, quick rides between cafes, in Watford at the Busy Bee cafe and the Ace Cafe in London. In post-war Britain, car ownership was still uncommon, but by the late 1950s the average Briton could now afford a car; so by the early 1960s the cafe racer's significance was that a bike had come to represent speed, status and rebellion, rather than mere inability to afford a car.
Hi-Speed Infinity 150 Specifications
The Hi-Speed 150 is a renamed Zongshen Infinity 150 in China and other markets it's also being sold in a 125cc variant and a 250cc variant with rear disc brakes which is being exported to the United States.
Zongshen Infinity 250ccHi Speed 150 is packed with all necessary features you need in a motorcycle like self-start, dipper, kill switch, fuel gauge, front disc brake, adjustable rear gas shocks and many more.
Let's talk about the specs here a little
The Hi-Speed Infinity 150 comes with a 149.5cc OHV dual spark air cooled engine mated to a 5-speed gearbox and makes 11.4bhp.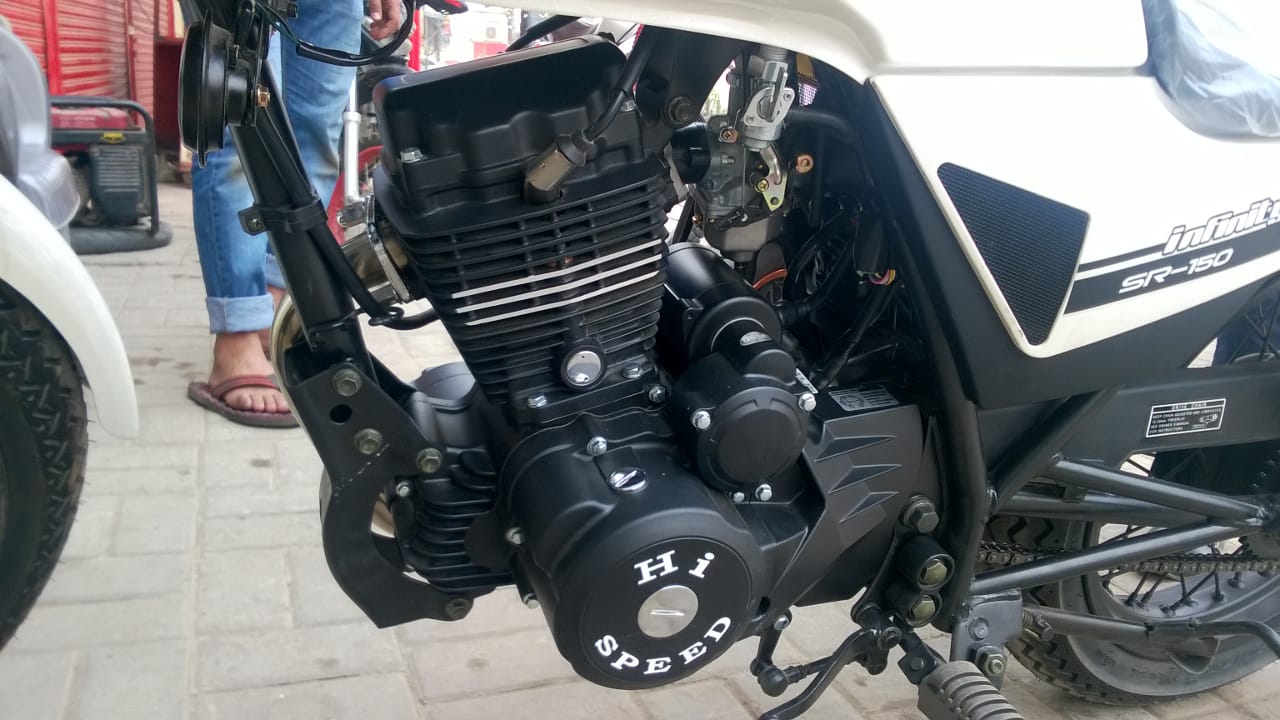 These are taken from the Official Zongshen Website and the bike imported to Pakistan as the Hi-Speed Infinity 150cc is the same.
ModelsZS150-52
EngineDG150D-B;PR150
Maximum power Kw/(r/min)8.5/8000;8.3/8000
Maximum torque N.m/(r/min)10.0/7500;11.4/6500
Maximum speed (Km/h)110
Long X wide X high (mm)1920X770X1080
Wheelbase (mm)1290
Fuel Capacity (L)15
Hi-Speed Infinity 150 Features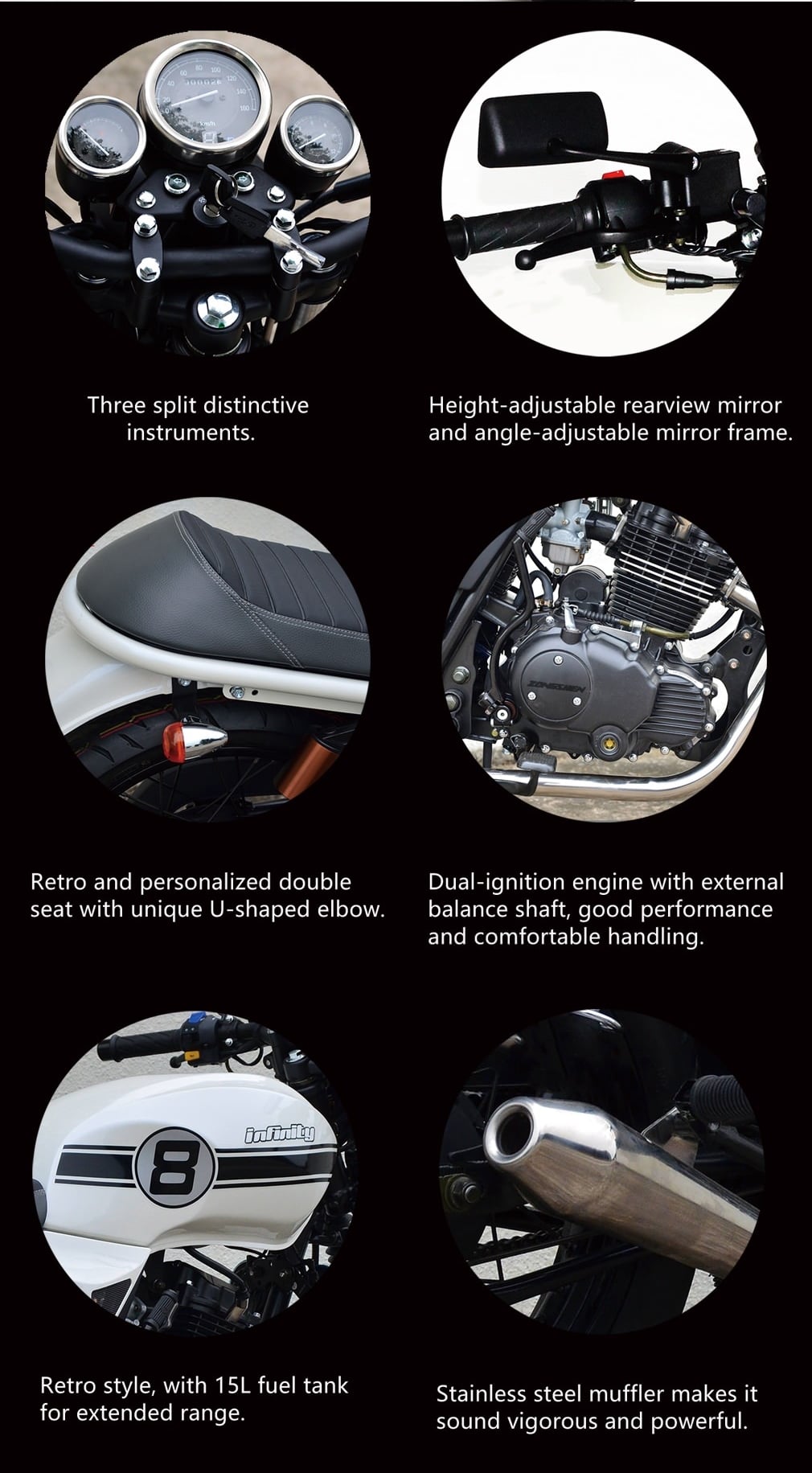 Hi-Speed Infinity 150 Video Review
Hi-Speed Infinity 150 is available in White, Red, Grey, Black and Matte Green color even though there are more colors available in the zongshen lineup there has been no news on bringing them to Pakistan.
Hi-Speed 150 Price and Specifications
The price of Hi-Speed 150 is over Rs 300,000 in Pakistan.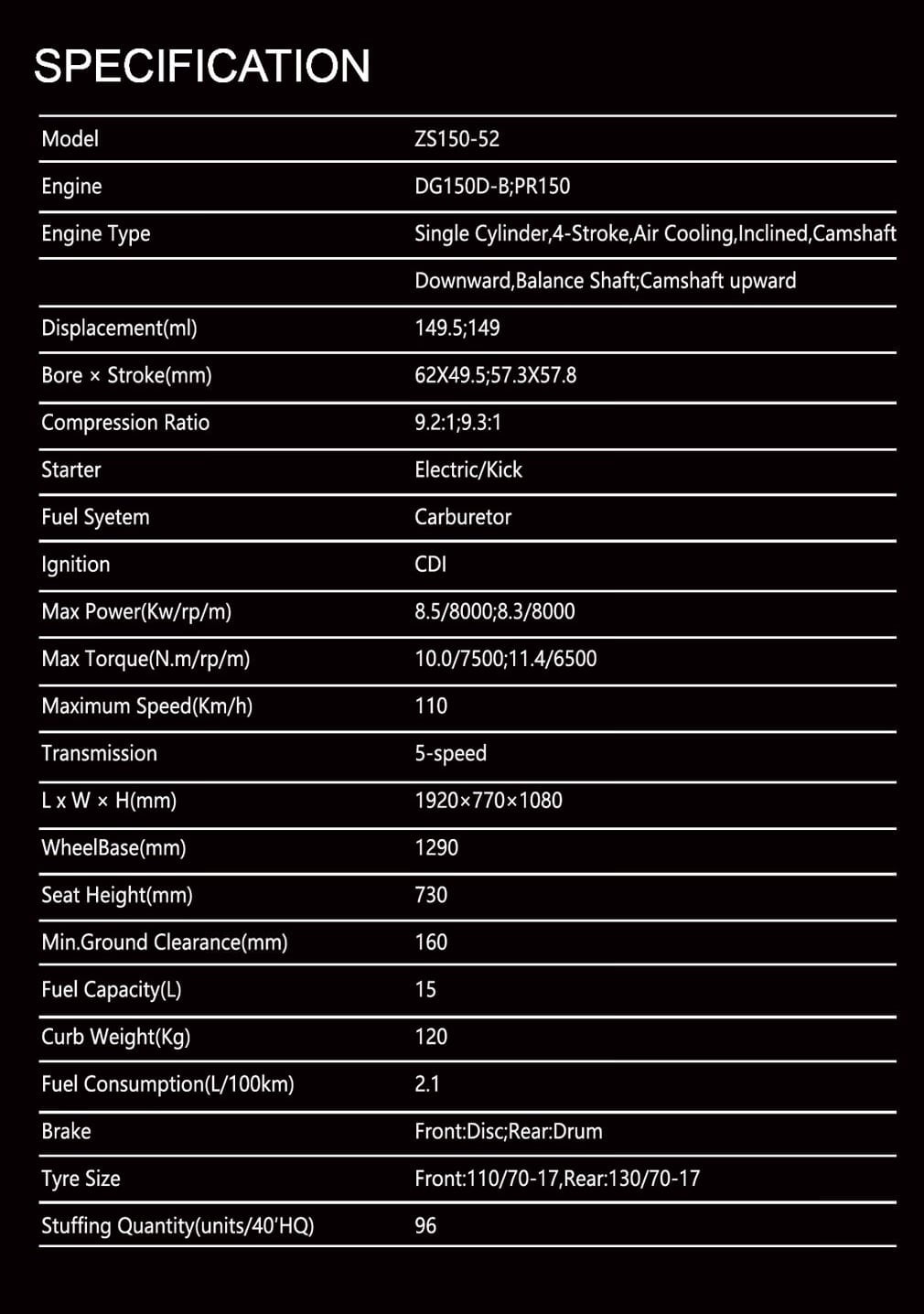 According to the company, Hi-Speed Infinity's Top Speed is 110 Kmph which is pretty decent. On paper, the Hi-Speed Infinity 150 is a dream in 150 cc class the low down torque is very good and the dual spark technology helps the bike with acceleration and also fuel efficiency. With vintage looks like the three analog meters, low down handlebars, classic spoke wheels and the short exhaust which sounds amazing.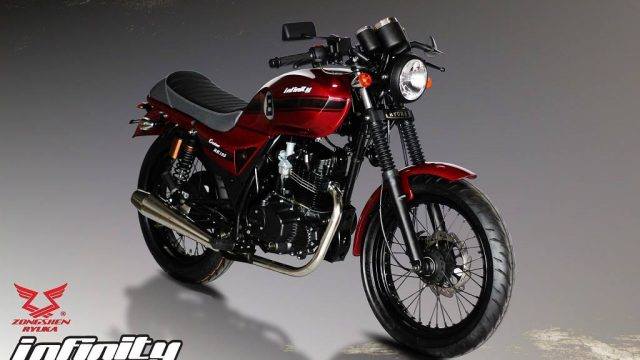 Read more: Honda CB125F 2019 Review Price and Specifications.
Follow INCPAK on Facebook / Twitter / Instagram for updates.