ISLAMABAD: Pakistan on Wednesday, The government sold off four licences to provide 3G services, which allow broadband-speed internet on mobile phones, and one for superfast 4G connections.
3G = UMTS         (Universal Mobile Telecommunications System)
4G = LTE               (Long Term Evolution)
The successful bidders for 3G services were Norway's Telenor, Russian-owned Mobilink, Ufone, owned by the Pakistani government, and Zong — part of China Mobile.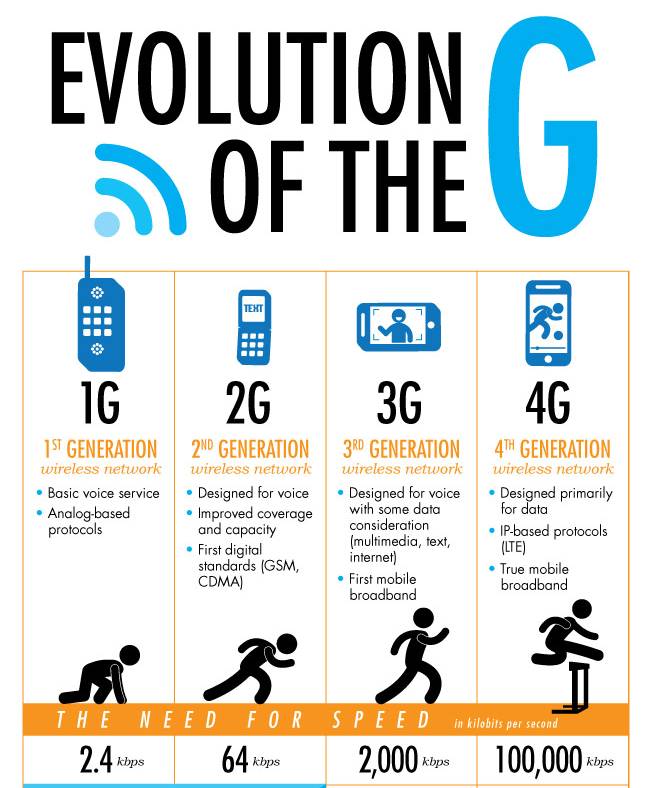 3G License Winners:
Mobilink has won 10-Mhz block on 2100-MHz band.
Telenor has won 5-Mhz block on 2100-MHz band.
Ufone has won 5-Mhz block on 2100-MHz band.
Zong has won 10-Mhz block on 2100-MHz band.
4G License Winners:
Zong has won 10-MHz block on 1800-MHz band .
2G  allowed us to use Text Messages (SMS), Picture messages (MMS) and Internet (WAP) all though it being rather slow.
3G  brought us Video Calling and Faster Internet. Broadband speeds at the time, but again we wanted more.
WCDMA (Wide Band Code Division Multiple Access) or UMTS (Universal Mobile Telephone System) – this standard has been developed to accept higher rates up to 2 Mbps (to 2 Mbps (local area access) or 384 Kbps (wide area access)) allowing to surf the net, use the videophone, download video…WCDMA is a third-generation (3G) mobile wireless technology.
4G is 4th Generation Network which will enable us to go even faster on our mobiles and mobile dongles. Possible speeds achievable are 300Mbs download and 75Mbs Upload.

2G -3G -4G Speed Comparisons
Does your smartphone supports 2G,3G or 4G ?
So why can some phones work on 4G, 3G and 2G,
Well its all to do with the frequency they are run on and your Receiver Microchip in your phone.
Is way to explain is like a radio in the house or in the car.
There is FM, MW(AM), LW, SW (and others)
Some Radios can only pick up FM, MW(AM)
Some Radios pick up them all.
Mobile phones are no different, but they are called frequencies or Airwaves.
To check which phone supports 3G ( 2100 MHz Band ) see list below 
Samsung Galaxy S5
Nokia X
Motorola Moto G
Samsung Galaxy Note 3
Samsung Galaxy Grand 2
Samsung I9500 Galaxy S4
HTC One (M8)
Sony Xperia Z2
Samsung I9300 Galaxy S III
Sony Xperia C
Samsung Galaxy S Duos 2 S7582
Sony Xperia M
Samsung Galaxy Core I8260
Nokia XL
Sony Xperia Z
LG Nexus 5
Samsung Galaxy S Duos S7562
Apple iPhone 5s
Nokia Lumia 520
Samsung I9190 Galaxy S4 mini
Sony Xperia Z1
Sony Xperia T2 Ultra
LG G2
Samsung Galaxy Grand Neo
Samsung Galaxy Note II N7100
Samsung Galaxy Beam2
Samsung Galaxy Grand I9082
Sony Xperia L
HTC One
Samsung I9100 Galaxy S II
HTC Desire 816
Sony Xperia M2
Apple iPhone 4s
Apple iPhone 5
Motorola Moto X
HTC Desire 210 dual sim
BlackBerry Z10
Nokia Lumia 625
Sony Xperia SP
Samsung I8190 Galaxy S III mini
Samsung Galaxy Ace 3
Nokia Lumia 930
Apple iPhone 4
Samsung Galaxy Tab 3 7.0
Samsung Galaxy Core 2 Dual SIM
Samsung Galaxy Note 3 Neo
Nokia Lumia 1520
Sony Xperia Z1 Compact
Nokia Lumia 525
Samsung Galaxy Trend II Duos S7572
Sony Xperia M2 dual
Samsung Galaxy Note N7000
Sony Xperia E1
LG G Pro 2
Nokia Lumia 1320
Sony Xperia T2 Ultra dual
Sony Xperia E
Samsung Galaxy Ace S5830
Samsung Galaxy Mega 6.3 I9200
Samsung Galaxy Y S5360
List of 4G (1800 MHz) supported smartphones
Samsung Galaxy Note 3
HTC One (M8)
Sony Xperia Z2
Sony Xperia Z
LG Nexus 5
Sony Xperia Z1
Sony Xperia T2 Ultra
LG G2
Samsung Galaxy Note II N7100
HTC One
HTC Desire 816
Sony Xperia M2
Apple iPhone 5
Motorola Moto X
BlackBerry Z10
Nokia Lumia 625
Sony Xperia SP
Samsung Galaxy Ace 3
Nokia Lumia 930
Samsung Galaxy Tab 3 7.0
Samsung Galaxy Note 3 Neo
Nokia Lumia 1520
Sony Xperia Z1 Compact
LG G Pro 2
Nokia Lumia 1320
Samsung Galaxy Mega 6.3 I9200
Sony Xperia Z Ultra
LG G3
Nokia Lumia 1020
Oppo Find 7
Nokia Lumia 925
Sony Xperia ZR
Nokia Lumia 920
Samsung Galaxy Tab 3 8.0
HTC One mini
Samsung I9505 Galaxy S4
Sony Xperia V
LG G Flex
HTC One Max
BlackBerry Z30
LG Optimus G Pro E985
Sony Xperia ZL
Nokia Lumia 820
Nokia Lumia 635
BlackBerry Q5
HTC Desire 610
LG Optimus G E975
HTC Desire 601
Samsung I9295 Galaxy S4 Active
Samsung Galaxy Note 10.1 (2014 Edition)
Samsung I9305 Galaxy S III
Samsung I9506 Galaxy S4
Samsung Galaxy Note 8.0
Oppo Find 7a
Asus Google Nexus 7 (2013)
Samsung Galaxy J
Apple iPad mini Wi-Fi + Cellular
Sony Xperia Z2 Tablet LTE
LG G2 mini LTE
Nokia Lumia 2520
Samsung Galaxy Tab 3 10.1 P5220
HTC Butterfly S
Samsung Galaxy Note Pro 12.2 LTE
Samsung Galaxy Express 2
BlackBerry Porsche Design P'9982
Apple iPad 4 Wi-Fi + Cellular
Huawei Ascend G6 4G
Samsung Galaxy Round G910S
3G Supported Smartphones by Qmobile
Qmobile Quatro Z4
Qmobile Noir V5
Qmobile Noir V4
Qmobile Noir A750
Qmobile Tablet X50
Qmobile Quatro Z4 Mini
Qmobile Quatro Z3
Qmobile Noir A950
Qmobile Noir A700
Qmobile Noir A910
Qmobile Noir A600
Qmobile NOir A650
Qmobile NOir A900
Qmobile Noir A12
Qmobile Noir A15 3D
Qmobile Noir A10 Quad-core
Qmobile Tablet Q800
QMobile Noir A550
Qmobile Noir A9
Qmobile Noir A20
Qmobile Noir A10
QMobile Noir A500
Qmobile Noir A10 Lite
Qmobile Tablet Q300
Qmobile Noir A11
Qmobile Noir A70
Qmobile Noir A80
Qmobile Noir A51
Qmobile Noir A60
Qmobile Tablet Q100