Apple has unveiled its most powerful processor, which is designed for its new Mac Studio computer, the M1 Ultra that is basically two M1 Max chips put together with a new interconnect architecture that Apple calls UltraFusion.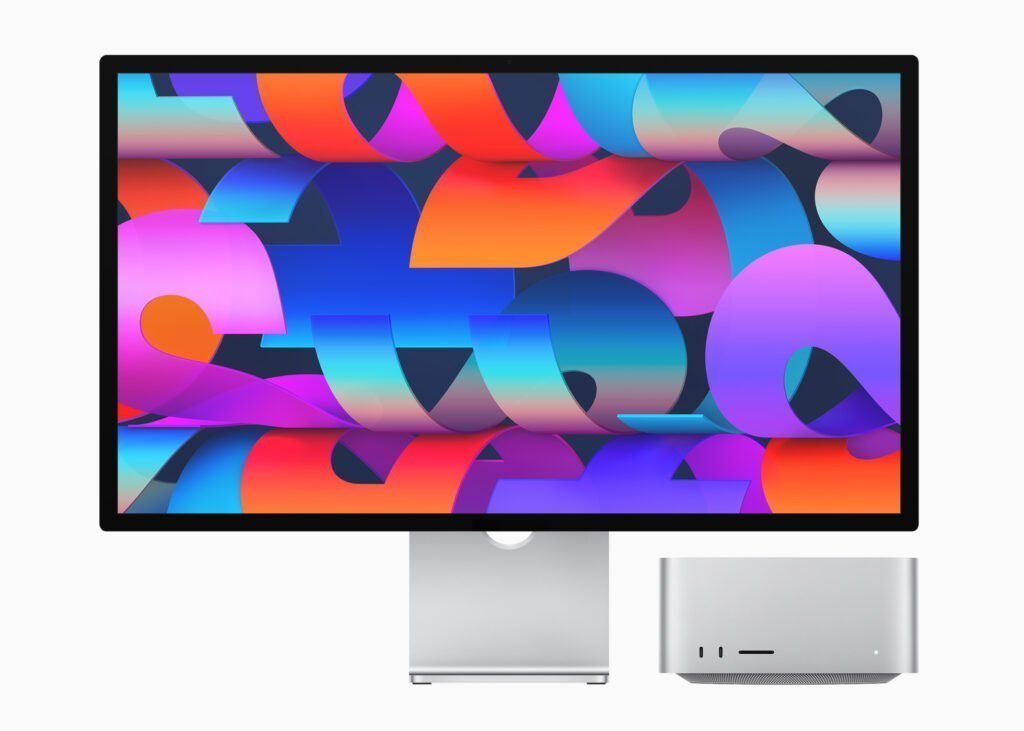 The M1 Ultra features a 20-core CPU, a 64-core GPU, and a 32-core Neural Engine, which are all twice that of the M1 Max and makes this one of the fastest ARM chips on the market and the company claims it is 90% faster in performance to the Core i9-12900K for the same power consumption and it can match Intel's peak performance by using 100W less.
In terms of of GPU performance, the 64-core model consumes 200W less power than Nvidia GeForce RTX 3090 while outperforming the dedicated GPU as well. However, it bears mentioning that Apple failed to mention under which tasks the new chip yielded better results for the CPU as well as the GPU.
Furthermore, the M1 Ultra can be configured with up to 128GB of unified memory and this entire pool of memory is accessible to both the CPU and the GPU like other M1 models. The M1 Ultra certainly has an edge over the competition when it comes to media decoding, including being able to play back up to 18 streams of 8K ProRes 422 video simultaneously.
Read more: Apple Launches iPhone SE 2022 With A15 Chipset.
New Mac Studio
Apple unveiled its most powerful computer ever, the Mac Studio, which is similar to the Mac Mini when it comes to design but a lot bulkier in order to fit the company's new M1 Ultra chip, which we talked about above. However, the desktop computer is still very portable with 9.5cm in height and 19.7cm in width and depth and a weight of 2.7kg or 3.6kg, depending on your choice of processor.
The Mac Studio offers a wide selection of ports on the back, including four Thunderbolt 4 USB-C ports with 40Gbps throughput each, a 10 Gigabit Ethernet, two USB-A ports, one HDMI, a 3.5mm audio jack, and a power connector, which is the most essential part of the device and gives it power.
There is an array of ports at the front as well, including two 10Gbps USB-C ports and a UHS-II SDXC card slot. The M1 Ultra Mac Studio makes use of two Thunderbolt 4 USB-C and there is an integrated speaker as well.
Moreover, you can connect up to five displays to the Mac Studio, including four 6K Pro Display XDR along with a fifth 4K display, something which is made possible because of the new M1 Ultra chip. This is made possible by connecting four displays up to 6K at 60Hz through the Thunderbolt USB-C and one 4K display through the built-in HDMI.
The Mac Studio comes with a choice of either M1 Max and M1 Ultra, which is basically two M1 Max chips put together. The M1 Max can be configured with a 32-core GPU, while the M1 Ultra can be had with an up to 64-core GPU. Each chipset can be paired with 64GB or even 128GB of unified memory and a choice of 1TB, 2TB, 4TB, or 8TB of 7.4GB/s SSD storage.
Furthermore, the Mac Studio is now available for pre-order and will start shipping on March 18. The starting configuration with an M1 Max processor is $1,999, while the starting M1 Ultra configuration starts at $3,999.
Studio Display
Apple has also launched a new Studio Display to compliment the Mac Studio. The Studio Display has a 27-inch 5K Retina screen, plus sensational camera and audio, delivering that integrated experience Mac users love.
The Studio Display has 600 nits of brightness, P3 wide color, and support for over one billion colors, images come to life with spectacular detail. Furthermore, the True Tone technology automatically adjusts the display's color temperature as the environment changes for a more natural viewing experience. 
Apple's new display is equipped with an anti-reflective coating enabling incredibly low reflectivity for better comfort and readability. Moreover, the display offers innovative nano-texture glass option, which was first introduced on Pro Display XDR and scatters light to further minimize glare while delivering outstanding image quality. This is helpful for workspaces with bright light sources, including sunlight.
The Studio Display also has the A13 Bionic Chip, which allows the display to deliver amazing experiences with its highly advanced camera and audio system. Apple's Studio Display is equipped with a 12MP ultrawide camera sensor with Center Stage, a feature that automatically keeps users centered in the frame as they move around for even more engaging video calls.
It includes a studio-quality, three-microphone array with an especially low noise floor for crystal-clear calls and voice recordings. There is a high-fidelity six-speaker sound system, the best ever created for Mac, delivering an unbelievable listening experience.
The Studio Display also features four force-cancelling woofers that minimize distortion and produce bold, articulate bass, and two high-performance tweeters create accurate mids and crisp highs.  The speakers also support spatial audio for music and video with Dolby Atmos, creating a truly cinematic viewing experience.
There are three USB-C ports that deliver speeds up to 10Gb/s to connect high-speed peripherals, storage, and networking right into the display. A Thunderbolt port enables users to connect Studio Display and any connected peripherals to their Mac with a single cable.
The same cable also delivers 96W of power to a Mac notebook, allowing Studio Display to even fast-charge a 14-inch MacBook Pro. And up to three Studio Displays can be connected to MacBook Pro, creating a powerful edit bay or animation workspace.
The Studio Display is priced at $1,599 for its base configuration, while the nano-texture glass adds $300 and the more advanced stand pushes the total to $2.299. The display is available to pre-order and will ship and make its way to the stores on March 18.
Read more: Apple Unveils New iPad Air with M1 Chipset & 5G Support.
Follow INCPAK on Facebook / Twitter / Instagram for updates.