When it comes to valuable things in today's world, data available in our computers counts as one of them. There are many data recovery software available in the market, but when it comes to the ultimate free data recovery solution, nothing comes close to EaseUS Data Recovery Wizard (Free).
What is EaseUS?
EaseUS is one of the most trustworthy names in the market which have been serving us for 12 years now. 12 years ago, their motive was to provide reassurance to its users that even the accidental loss or deletion of the data can be recovered. Well, 12 years later, it looks like nothing has changed as EaseUS still is the best free Data Recovery Software. EaseUS Data Recovery Wizard not only allows us to recover data from our PC or Laptops but even allows us to recover it from removable devices like flash drives, hard drives and external SSD's and even SD cards.
Features of EaseUS Data Recovery Wizard
1.     Free to use
One of the best features of EaseUS is that its free version is mostly enough for regular use. It is not like other software which would restrict users to do a lot of stuff in the free version. Well, you will get up to 2 GB of data recovery allowance which is more than enough as the most important files that one would want to recover deleted files.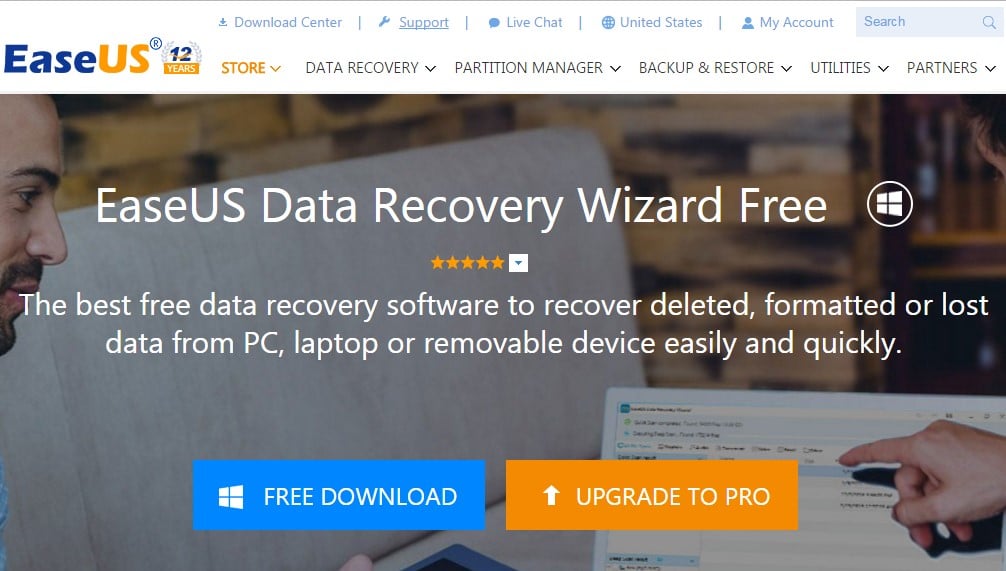 2.     Easy to use
This is another great feature of EaseUS Data Recovery Wizard as no one would have ever thought that recovering data would be so easy. Well, it is now, and since EaseUS have been around since a few years now, their expertise really shows in the user interface of the software. All you need to do is launch the software and scan the device you want to keep an eye on for data recovery.
3.     Recover almost any type of file.
If you want to recover a video or audio, EaseUS can do it for you. In the case of documents or pictures or emails or even compressed files, the solution is still the same, EaseUS Data Recovery Wizard! It is simple, and the free version is full of features that are worth having.
What's new in EaseUS Data Recovery Wizard Version 11?
Recently, EaseUS pushed out an updated setup of the application which allows users to do even more than what they used to earlier. Every year, EaseUS launches a new update of their much-loved software which means users were eagerly waiting for this year's update. Well, EaseUS is back with V11 of the Data Recovery Wizard which has a lot more to offer now.
Updated User Interface
EaseUS have updated their user interface and made it, even more, users friendly as recovering data was never so easy. In the Version 11, EaseUS have introduced a better user interface which makes it simpler to recover our deleted files. As soon as you open the software, Ease the US welcomes you with the clean home screen with the 'Scan' button placed at the bottom center. To get started, all you need to do is push the scan button and leave the rest to EaseUS.
2.     Filtered Search Results
Users can now filter their search results according to different file types. For example, users can easily perform videos only search, or photos only search or can also search for all file types available for recovery. This makes it very easy especially if you are looking for a specific file type. If you want to look for a deleted video, then EaseUS will only search for that particle file format which will also result in faster search results.
1.     More Efficient File Search
EaseUS have addressed their most common complaint, time-consuming search. Amazingly, in the Version 11 of the Data Recovery Wizard, EaseUS have gone for faster search results. As soon as you click on Scan button, the UI will start the countdown after which you will be presented with your search results. It doesn't matter what type of file you are searching, EaseUS have made the search process tremendously fast.
2.     Added 2 more Languages
Along with improving scanning process, they have also made their software available in 2 more languages, Turkish and Arabic which make the total of 20 language support.
More Features in Premium Versions
If you wish to go for the premium pack, EaseUS have 2 plans to offer.
Data Recovery Wizard Pro ($69.95)
The Pro version will give you unlimited data recovery options as well as technical support free for lifetime. One of the best parts about this Pro version is that you also get free lifetime updates.
Data Recovery Wizard PRO + WinPE ($99.90)
This PRO + WinPE version offers same features as that of PRO version but it also offers data available to you if the system crashes or doesn't start and support for WinPE is also provided.
Conclusion
EaseUS is a brand that always upgrades its software tools, and this Data Recovery Wizard has been upgrading consistently.