UMI X-2S MediaTek was the first to announce a chipset with a true octa-core processor back in June and now the first phone utilizing it has gone official. The UMI X2S broke cover at the Autumn Edition of Hong Kong Electronics Fair
.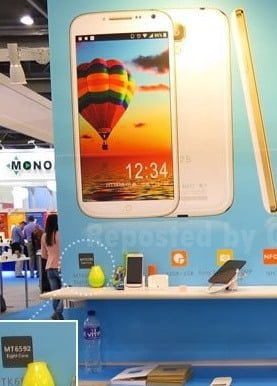 All of UMI's phones are intended for the Chinese market and that's why you've probably never heard of the brand. The UMI latest X2S smartphone is powered by MT6592 chipset with an octa-core Cortex-A7 1.5GHz processor and 2GB of RAM. There is no word on the GPU, but when the MT6592 got benchmarked it was rocking a Mali-450, so that's probably it.
The rest of the UMI X2S specs include a 5" 1080p display, 32GB internal storage, a 13MP camera with Sony lens, and NFC connectivity. Since MG6592 is LTE-capable, we guess the X2S should be LTE-enabled as well.
There is no info on the pricing and availability yet, but the gadget is supposed to be very affordable, despite its fancy CPU.
MediaTek was indeed the first one to design and release a true octa-core chip and will probably remain the only one for a while as early hopes of Samsung enabling 8-core processing on its Exynos 5 Octa via a firmware update were squashed. And the revised Exynos 5 is unlikely to make it in actual hardware before the Galaxy S5 comes around next year.