A week ago a Youtuber claimed to have received inside information on a third phone Google Pixel Ultra,Google plans to launch this year. We considered it as a rumor with a low credibility till yesterday when it was confirmed (intentionally or un-intentionally) by Google.
Here is a Recap of the rumor:
Arun Maini (Mrwhosetheboss on YouTube) in a video on last week told that he was contacted by an anonymous source inside Google. Arun claims that he was mailed video of a presentation slide for the third phone to be launched. These slides indicate to the existence of a flagship device called the "Ultra Pixel."
Google Pixel Ultra
Not much of the specification was revealed but the slides show that the device uses a dual camera setup and a "new fingerprint technology". As QualComm as already presented under-display fingerprint, Google might be using that to counter Apple's FaceID.
One slide shows three Pixel Ultras with a caption of "The future of Android is fluid" and another slide reveals the phone a curve on the botton with "multitasking" written in the curved area. Arun suggests that Google has been trying to use more space by removing hardware navigation key in Nexus line up. Pixel series still has the software key but this indicates Google wants to remove them too and use gestures for different operation as iPhone X by Apple.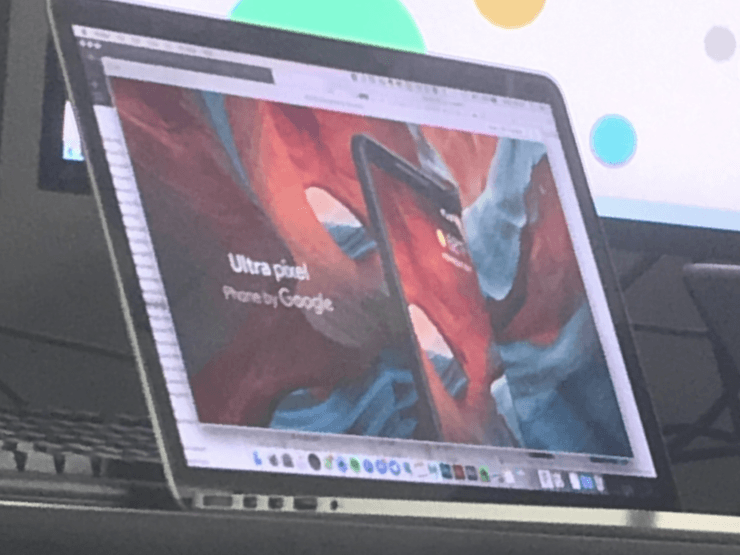 However now we believe that the Google Pixel Ultra rumors are not fabricated, Google leaked the information during Google Pixel 2 presentation on 4th October. During the demonstration of Pixel 2, Sabrina Ellis, Senior Director of Product Management at Google, showed her screen.
This Screenshot taken from the Google Pixel demo suggests that Sabrina has a meeting in "Conference Room X" about "Pixel Ultra".
So either Google has confirmed the rumor and we might be in for a surprise soon or Google is taking a shot at Apple with "Conference Room X" and possibility of a third phone.
Comment below to tell us what do you think about this?