Many people who want to download Windows 10 move to non-official sources because of the Microsoft Media Creation Tool that they are greeted with while downloading Windows directly from their website. However, there is a way around the Media Creation Tool to download The Windows 10 ISO directly from the official Microsoft website using IDM or any other download managers.
The Media Creation Tool download page is actually shown to Windows users because according to Microsoft it is the best way to download Windows on a PC already running Windows but we all know that the Tool can be irritating and slow to download. This is a tutorial on how you can download Windows 10 ISO directly from their site.
Step 1
Visit the Windows 10 Download page on Microsoft's website
Step 2
In order for you skip the Media Creation Tool you need to trick the website into thinking that you're visiting from a non-windows device. In order for you to do that, you need to go into inspect element mode. All you need to do is right click anywhere on the page and click "inspect element".
Step 3
Click on the mobile icon on the top left of the inspect element and make sure the icon is blue as shown. If it is already blue just refresh the page, if not blue then click it to make sure it's blue.
Now after refreshing you will notice that the the page is now different. Now you need to cross out the inspect element.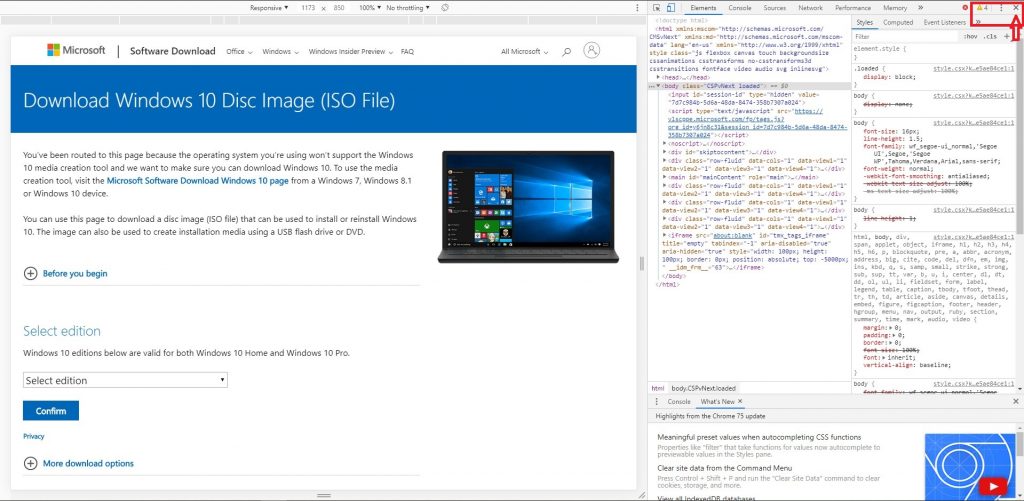 Step 4
Select the version of Windows 10 you want to install.
Step 5
Select the language.
Step 6
Select whether you want to download 32-bit or 64-bit Windows. Click on it and download of the ISO will start. If you have a download manager it will be able to catch the download like the screenshot below.
Read More: 5 Best Smartphones under 40000 in Pakistan
Follow INCPAK on Facebook / Twitter / Instagram for updates.