INCPak Dhamaka Offer – You really don't want to miss this! The exciting flash sale on Bytes Overload Earphones by Bytes.pk is here, exclusively on INCPak. A premium quality earphones with such an amazing 50% dhamaka discount offer.
You really don't want to miss this….
Getting a good Quality Earphones in a reasonable price tag is mission impossible,  usually you get bad sound and built quality cheap low class after which eventually you end up screaming but how about ordering online a premium quality earphones at half price? Sounds Great ! 
Bytes.pk and INCPak introducing exciting Dhamaka Offer flash sale on Bytes Overload Earphones. 
Order Now
INCPak Reviews Bytes Overload Earphones : Not only the sound is good but the built quality is good as well, enjoyed listening acoustic sound without messing up with the equalizer, I wouldn't say bytes overload earphones are overloud sounds bazooooka but definitely way better than those which comes with smartphones. Bytes promises that these earphones have the loudest sound and the deepest bass so that you enjoy the music meanwhile INCPak makes sure you get the best because we know the thing not bad at all if you get these for just 399/-
The Box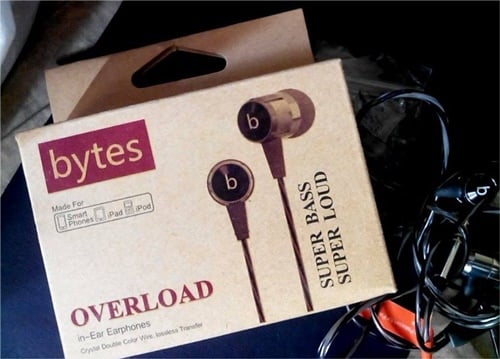 bytes overload earphones

You get 2x pairs of extra buds, in case you are having some problem plugging them properly, you can always change them according to proper size.
Bytes Overload Earphones Technical Specification 
CABLE LENGTH                              1.2 meters
FREQUENCY RESPONSE            20-2,000 Hz
PLUG TYPE                                      3.5 mm jack
SENSITIVITY                                  95 dB +/- 3 dB
COMPATIBILITY                           All devices and machines featuring a 3.5 mm jack input
OTHER FEATURES                       Mic control ,Multimedia buttons (Play, stop, fast forward, fast backward) ,Call related buttons (Receive call, reject call)
Share your views about Bytes Overload Earphones.
Reviewed by  Farhan Imaan.