Thanks to Muhammad Asad Mughal who provided the benchmark results, There is a slight difference in ICS 4.0 performance and 4.1 Jelly Bean OS.
However, There bug which drains the battery remains there in JB OS, modified customed by Q fellas. The Alternate solution which they came up with so far is by placing the Battery app which sustain the timing but that isn't the permanent solution at all.
Jelly Bean Operating System supposed to be optimizing battery and animation efficiency instead of which it is doing opposite in all Noir Series phones, I mentioned earlier in my post as well, we all at Tech Talk Team are working on this issue as well and provide you back up of JB without a bug.
Due to this reason we are on standby yet many members of Sharing Is Caring and QMobile Discussion hasn't updated because I personally have put them onto hold, since ICS OS 4.0.4 is giving good timing and JB OS is having issue.
Yet I have to confirm from Q Fellas about the bug how to fix it properly and permanently than I will update the information here, for now here the
Screen Shots of the Benchmark Test !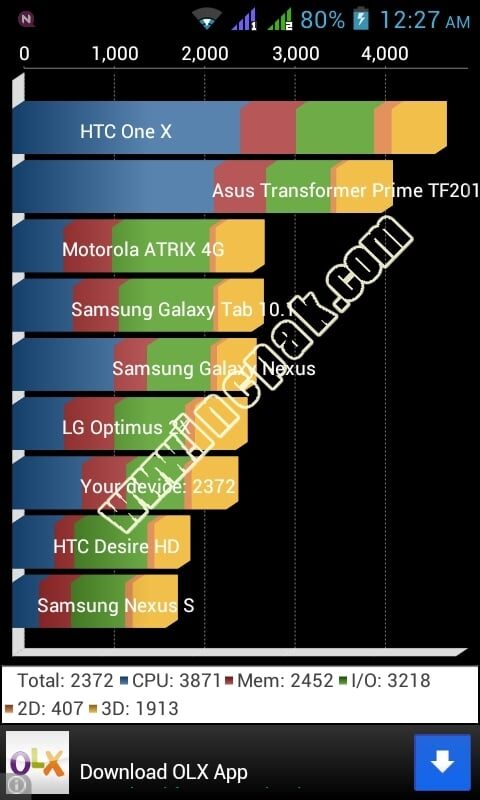 The Camera app is also slighty different than ICS 4.0 and default mp3 player here's some screen shot for you all.


Join Sharing is Caring / Qmobile Discussion on Facebook for the discussion.
Bookmark the Site for more latest updates and information or simply subscribe via sms  write msg option  TYPE   incpak  and send it on 9900 to stay updated.
All the ScreenShots Provided by : Muhammad Asad Mughal. ( Sharing Is Caring Member )


[fbshare]