Islamabad:  In order to give its customers, the opportunity to benefit from premium content in HD quality, Samsung Pakistan recently introduced a limited time offer for its line-up of exclusive television screens.
On the purchase of a single Samsung TV, customers will be able to win another TV absolutely free. In addition, they will also be given the chance to avail amazing discounts on the majority of the brand's products.
The offer, in question, is being offered on selected models of the brand's exclusive line-up of televisions. With the purchase of either Samsung's 65" QLED TV or its 82" Premium UHD 4K TV,customers get a 43" UHD 4K TV absolutely free while on the purchase of the brand's 65" Premium UHD 4K TV, 55" Premium UHD 4K TV, 65" UHD 4K TV, 55" UHD 4KTV and its 49" UHD 4K TV, customers get a 10% discount on their price. The offer is valid from 4th December 2018 to 31st January 2019.
Read More: Yamaha Bikes Prices Revised again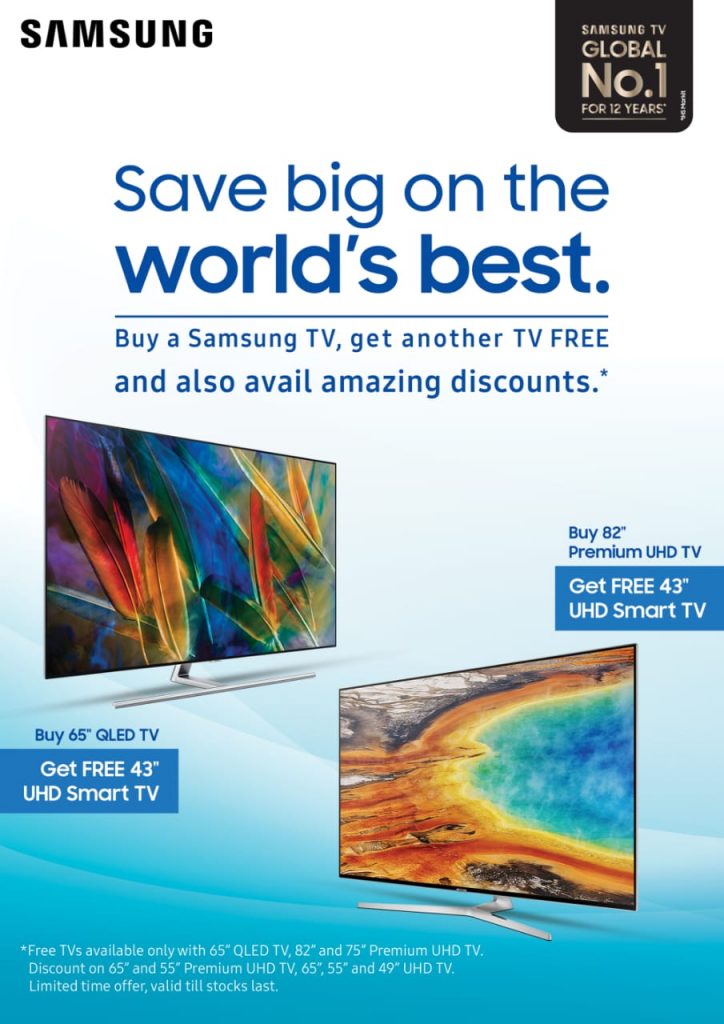 Through this offer, Samsung aims to furtherbolster its relationship with its target market as well as give them the opportunity to enjoy the brand's quality products.
One of today's leading brands in technologyand innovation in Pakistan and around the world, Samsung has been offering its customers the highest quality in televisions, home theater systems and mobilephones for decades. Apart from providing efficient after-sales service, thebrand continues to give its customers the chance to benefit from its qualityproducts at an affordable investment.