China : At least 25 people were killed as the year's most powerful typhoon crashed into Hong Kong and southern China on Sunday evening, canceling hundreds of flights, crippling power lines, and causing significant flooding.
The harshest storm to reach the Western Pacific this year, Typhoon Usagi hit Hong Kong on Sunday, canceling more than 370 flights and shutting down one of the world's busiest sea ports.
A No. 8 signal warning, the third highest on a five-point scale, remained on Monday morning, forcing financial markets to stay closed for the first part of the day. Authorities said they might lower the warning signal before 10:00 am local time (01:00 GMT).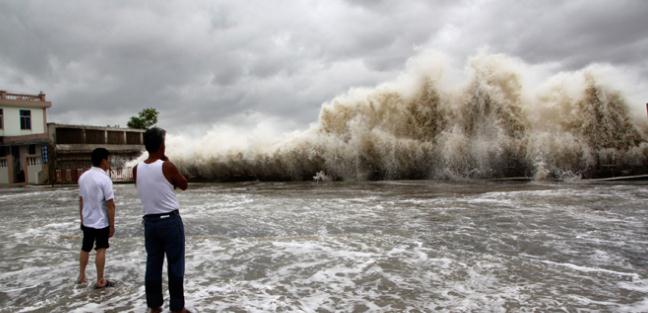 A total of 25 people were killed, national television broadcaster CCTV reported. Thirteen of them were from Shanwei, located on the eastern fringes of Guangdong province. The victims died from drowning or being hit by debris.
More than 80,000 people have been evacuated to safety in the Fujian province and 50,000 disaster-relief staff are being sent to help, according to Xinhua news agency.
A man walks under fallen branches on a pavement at a residential district after Typhoon Usagi hit Hong Kong September 23, 2013 (Reuters / Bobby Yip)
Usagi – Japanese for 'rabbit' – was classified as a severe typhoon, which carried winds of up to 180 kilometers per hour (110 miles per hour), with gusts of up to 213 kph (132 mph) in some areas of southern China. The typhoon tossed around trees, cranes, and cars.
"It is the strongest typhoon I have ever encountered," Xinhua quoted gas station attendant Luo Hailing as saying. "So terrible, lucky we made preparations."
Authorities in Guangdong initiated an emergency response plan for the Daya Bay nuclear power station northeast of Hong Kong as Usagi approached, ordering four of six reactors to operate at a reduced load, the agency said.
People react as waves splash on to the road during Typhoon Usagi in Hong Kong September 22, 2013 (Reuters / Tyrone Siu)
The storm, characterized by meteorologists as the most powerful anywhere on Earth this year, earlier killed two people in the Philippines and sparked landslides in Taiwan en route to southern China. Nine people in Taiwan were reportedly injured by falling trees.
In response to the imminent threat, Hong Kong authorities warned citizens to brace themselves for flooding and powerful winds, while the Cathay Pacific airline has announced it will suspend services when the storm strikes.