WASHINGTON DC: The Prime Minister of Pakistan Imran Khan arrived at The White House at around 12 pm afternoon, was warmly welcomed by US President Donald Trump.
Both leaders met and discussed various issues including the long-standing Kashmir dispute.
"If I can help, I would love to be a mediator," Trump said at the White House.
The decades-long Kashmir dispute issue between India and Pakistan is recognized by the United States.
"It's my great honour to have the very popular, and by the way, great athlete, one of the greatest, Prime Minister of Pakistan Imran Khan", says US President Donald Trump
PM Imran Khan and US President Donald Trump at White House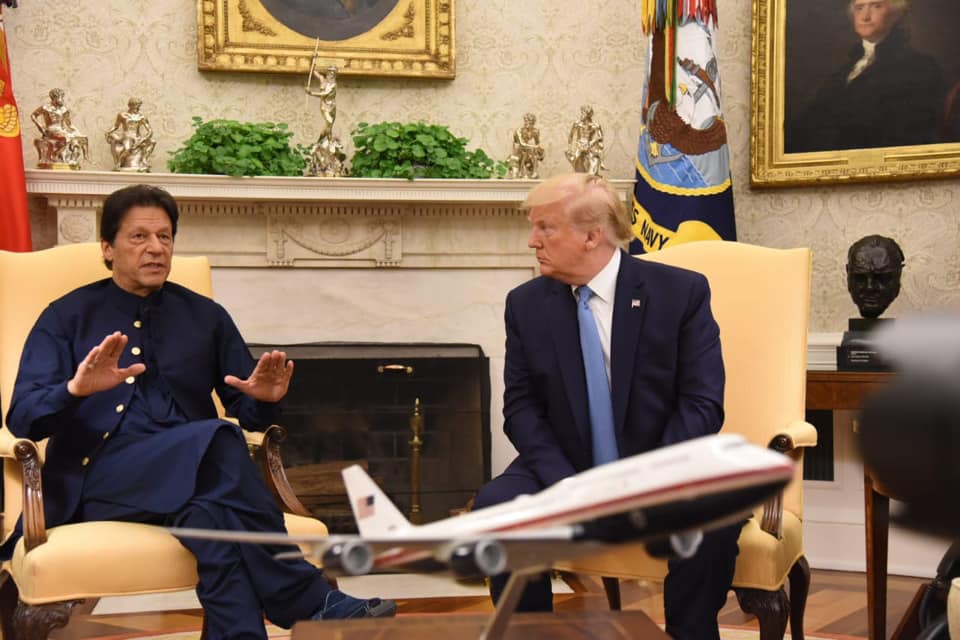 US President praised PM Imran Khan and said Pakistan is a strong nation and United States wants a good relationship with Pakistan.
Prime Minister Imran Khan also met with President Trump and First Lady Melania Trump in the Oval Office.
The Relation between United States and Pakistan were halted in 2017 after which US coalition funds 1.2 billion USD were not released to Pak Army in the fight against 'War on Terror'.
"I don t think Pakistan respected the United States" in the past, Trump said, but "they are helping us a lot now." US President Trump
President Trump wants Pakistan to help United States to peacefully exit from Afghanistan.
President also showed interest in trade relations saying we can increase trade by 10 times or maybe 20 times.
Prime Minister of Pakistan Imran Khan and President of the United States Donald Trump Media Talk after One on One Meeting at The White House Washington D.C. USA 
President Donald J. Trump presenting a Cricket Bat to Prime Minister Imran Khan along with a picture of President Eisenhower who is the only US President who witnessed Test Match in Pakistan.
Trending: Naya Pakistan Housing Program Registration Form: Download
Follow INCPAK on Facebook / Twitter / Instagram  for updates.