Sheppey bridge closes after massive pile-up crash involving 100 vehicles, no deaths reported but scores injured as emergency services attend incident on A249 bridge that links island to Kent.



A 100-vehicle pile-up on a bridge in heavy fog has left at least six people seriously injured and 200 suffering minor wounds in what witnesses described as "carnage".
No one is believed to have died in the crash on the new Sheppey crossing bridge in Kent. It started at around 7.15am and continued for 10 minutes as cars and lorries crashed into each other in visibility that was down to 20 yards.
A statement from Kent fire and rescue service said: "There are no fatalities but ambulance crews are dealing with a large number of walking wounded casualties. Firefighters have used hydraulic cutting equipment to release five people from their vehicles."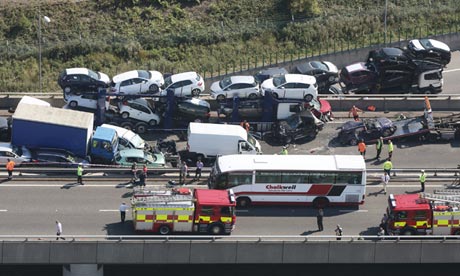 Concerns were raised when the bridge opened in 2006 by the then chief constable of Kent police, Mike Fuller, about safety aspects including the lighting. However, the Highways Agency insisted there was nothing wrong with the design.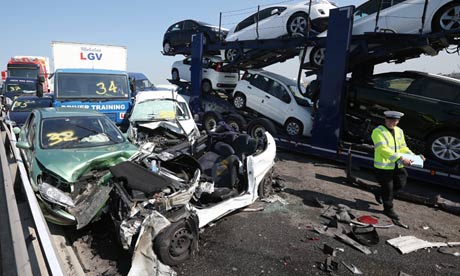 "Stupid driving", with vehicles far too close and not using fog lights, may have caused the crash, Edmund King, president of the AA, said. He said he himself had had to warn a driver two feet behind him in fog on the M25 to keep back. "It's really bad to travel too close to the car in front in good conditions and if you do it in foggy conditions it's an absolute recipe for disaster. In dense fog you cannot see the brake lights ahead. By law, you don't have to have fog lights on, although it's recommended." He also warned that many involved in the incident would find their insurance policies required them to pay the first £200-£300 of a claim for a shunt-like crash.
There were reports of some motorists driving "like idiots" in the conditions before the crash that completely closed the A249 that goes over the bridge.
The scene was full of buckled cars, lorries and even a car transporter as people waited at the side of the road to receive help from the emergency services.
It was reported that people were trapped and a fleet of 30 ambulances and response vehicles went to the scene, with some casualties receiving treatment at the roadside.