If you're planning to buy a Suzuki Bolan VX 2023 via an installment plan, you may want to consider Bank Alfalah's Auto Loan, which is providing easy customers flexible vehicle financing plans with easy monthly payments, according to Pak Suzuki Motor Company (PSMC) website.
In today's economy, everyone finds it hard to spend millions on a vehicle and car financing or installment plan, like the one for Suzuki Bolan, help to overcome this hurdle as one is able to get a brand new vehicle at easy monthly payments via any bank.
In this article, we are going to discuss the installment plan for Suzuki Bolan VX 2023 that is being provided via Bank Alfalah's Auto Loan. However, let us discuss some of the specifications of the vehicle before diving into details regarding the installment plan.
Overview
The vehicle was launched as the 'Hi-Roof' back in 1982 or 1983 and later renamed as the 'Bolan' in early 1990s and quickly became one of the top selling utility vehicles in the country. However, the price of the Suzuki Bolan has increased several fold since its launch several decades ago, which has made it extremely difficult for many to buy the vehicle.
Specifications
The Suzuki Bolan comes equipped with a 796cc engine displacement that is capable of producing 37 horsepower (hp) and 62 Newton-meters (Nm) of torque, while mated with a 4-speed manual transmission system.
Features
The vehicle does not offer any type of special features as it is meant to be an affordable utility vehicle to get you from one place to another, while providing you with ample storage space for transportation of goods or passengers.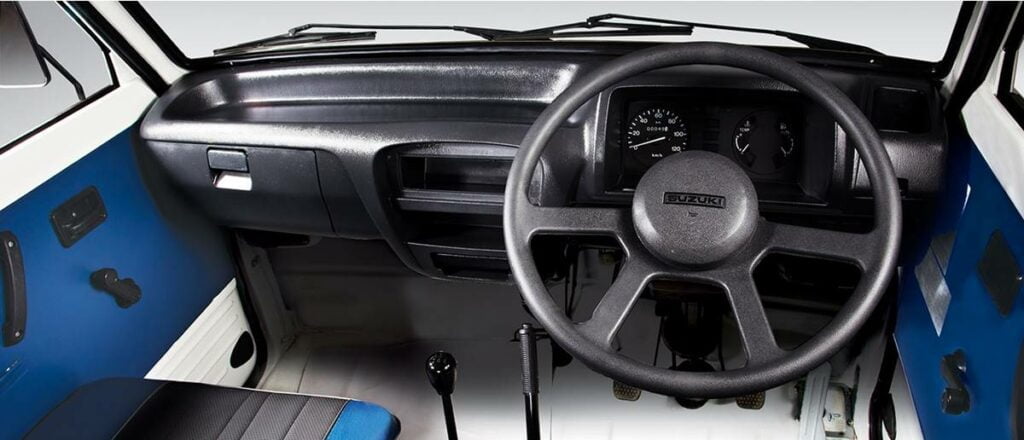 Furthermore, the Suzuki Bolan offers no security features and lacks everything from airbags to an Anti-Lock Breaking System (ABS). The only thing guaranteed with the vehicle is sudden death in case of a severe crash or accident.
Moreover, it lacks some of the most basic features like an air conditioner so the vehicle isn't a family friendly option if you were planning for a road trip. However, there are aftermarket options if you do want an affordable vehicle.
Suzuki Bolan Price in Pakistan
The price of the Suzuki Bolan VX 2023 in Pakistan is Rs. 1,500,000, while the Suzuki Bolan (cargo) costs slightly cheaper at Rs. 1,487,000. However, the price of the vehicle may increase any time considering economic conditions and constant devaluation of currency.
| Variant | Price (PKR) |
| --- | --- |
| Bolan | 1,500,000 |
| Bolan Cargo | 1,487,000 |
Bank Alfalah Auto Loan
Suzuki Wagon R VXL is available on easy installment plan through Bank Alfalah Auto Loan, which provides the following features to customers:
You can choose a locally assembled/manufactured new or used car
Affordable markup rates to choose from
Residual value option to lower your instalment
Partial Payment Option Available
Option to Defer Insurance & Registration charges
Zero charges on Car replacement option
Flexible financing tenure

Minimum 2 years & Maximum 5 Years (Vehicles up to 1000 CC)
Minimum 2 years & Maximum 3 Years (Vehicles above 1000 CC)
Suzuki Bolan Installment Plan
According to Pak Suzuki Motor Company (PSMC) website, you can get the Suzuki Bolan on an easy installment plan through Bank Alfalah Auto Loan by making a down payment of Rs. 450,000 (30%) with a monthly installment (payment) of Rs. 28,710. However, this does not include additional charges processing fee (Rs. 8,700), 1st year insurance (Rs. 37,500) and vehicle registration charges.
Installment Plan Breakdown
| | |
| --- | --- |
| Price | PKR 1,500,000 |
| Down Payment (30%) | PKR 450,000 |
| Processing Fees | PKR 8,700 |
| 1st Year Insurance Amount | PKR 37,500 |
| Monthly Payment (5 years) | PKR 28,710 |
| Total Down Payment | PKR 527,200 |
Disclaimer: Above calculations are tentative and the down payment includes first year advance insurance. Furthermore, the monthly installment is inclusive of insurance amount and subject to change. Registration fees and withholding tax will be paid by customer with down payment.
For more details regarding the Suzuki Wagon R VXL installment plan, you can visit the official websites of Pak Suzuki Motor Company's (PSMC) or Bank Alfalah. Meanwhile, you can also get the application form for the installment plan at www.sfap.com.pk/index/applicationform/.
Eligibility and Documentation Required
To check out installment plans for other vehicles, including the Suzuki Wagon R, make sure to visit our automotive section.
You should also check out details of the installment plan for Suzuki Alto VXL in Pakistan.
Read more: Suzuki Alto VXL AGS 2023 Installment Plan in Pakistan.