This article contains the list of top 10 Pakistani dramas of the year 2020, which had both local and abroad audience glued to their seats throughout their period.
Pakistani Entertainment industry continues to flourish each passing year, owing to the type of content being produced. Pakistani productions with their unique storylines, limited episodes and heart touching dialogues possess a separate fan base from all over the world. The screenplays here are short timed and usually run once a week for 2-3 months. It gives room to more and more dramas to go on air per year. And hence, creates tough competition among the dramas themselves, as each and every screenplay garners huge sum of viewers.
Likewise, this year was also jam packed with contrasting genre small screen projects that captivated the audience in their magical bubble. And although the majority harvested great viewership, there were some best of top Pakistani dramas in 2020, which shattered all previous ranking records.
Top Pakistani Drama in 2020
Meray Pass tum ho, the twisted tale of loyalty, greed and love smashed all previous records of viewership, becoming the most viewed drama of Pakistan to date. With Ayeza Khan, Humayun Saeed, Adnan Siddique and Hira Mani in lead, the story revolved around the insincerity of a wife and mother, whose priority lies in money and high status. Although Meray Pass Tum Ho was a chartbuster for ARY digital, the screenplay concluded with a sad ending, leaving the spectators massively disappointed.
The spirituality based screenplay of 2020, which went on air parallel with Meray Pass Tum Ho, ranks second among the top Pakistani dramas. The short serial was based on the novel by Umaira Ahmed and comprised of a star-studded cast. Namely, Sajal aly, Hamza Ali abbasi, Kubra Khan and Ahsan Khan, the celebs with their invincible game of expressions and dignified characters, received huge accolades with this romantic presentation.
Moreover, another reason of Alif's fame was the soul touching conversations between a film director Momin and his grandfather. The screenplay beautifully displays how a lost human turns back to his lord and leaves worldly fame and desires behind.
In an era of families and couple, the ISPR based drama serial Ehd-e-Wafa was all about indestructible friends bond. Centering on four bosom buddies Saad, Shahzain, Shariq and Shehryaar, the drama with its exhilarating timeline and hilarious plots, set forth some major friendship goals.
Ehd-e-Wafa masterly illustrated how the four boys' squad defeats all misunderstandings and challenges that comes their way and ends up together, cherishing their friends forever pledge.
Pyaar Ke Sadqay is and awe striking saga of two social misfits Abdullah and Mahjabeen, which garnered critical acclamations, earning one of the top Pakistani dramas title. The story proficiently sheds light on mental issues; illuminating the pureness and innocence such individuals carry.
Furthermore, Yumna Zaidi and Bilal Abbas Khan's on-screen chemistry added a cherry on top for the viewers, as both the stars are born with a gift of expressions.
Produced by Momina Duraid production, recently concluded Sabaat harvested huge approbations, owing to its exceptional storyline. With Sarah Khan and Mawra Hocane as leading ladies, the drama centered on arrogance and wealth and gave a positive impression of how it can destruct relationships.
Crime thriller drama Dushman e Jaan, with its spine-chilling storyline smoothly made its way to the top Pakistani dramas. With its outstanding plots and Mohib Mirza in lead, the drama was appreciated by a huge population.
The remarkable and extraordinary story of voracity and self-indulgence Jalan ranks among the best ongoing Pakistani dramas. The screenplay has already gathered millions of views, regardless of getting banned twice due to indecent plots. Nevertheless, Jalan keeps on rocking the ratings with its every episode, with its final chapter to go on air tonight, Wednesday 16th.
Jalan revolves around two sisters, Meesha and Nisha. Where Meesha is the ideal, soft-hearted human being, Nisha is the complete opposite. Born with greed and dissatisfaction, Nisha goes to extreme lengths to achieve what her sister possesses.
The romantic screenplay Ishqiya is another of the top Pakistani dramas of the year. Unlike other serials, the Ishqiya depicts burning vengeance and the consequences it brings along. However, other than the serious storyline, the drama perfectly blended hilarious plots in between, which garnered much appreciation from the audience.
Read More: Drama serial Ishqiya ending leaves fans disappointed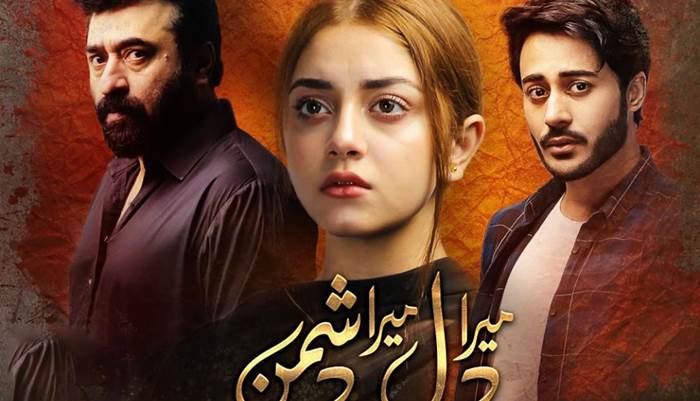 Mera Dil Mera Dushman is a story of a young innocent girl Mairah, who gets married to a much older man Zafar for the exchange of money. Unfortunately, she comes face to face with the bitter reality that her one and only love Shameer is now her son-in-law.
Additionally, the young, innocent character of Mairah was brought to life by the enthralling beauty Alizeh Shah, which adds to Mera Dil Mera Dushman's fame.
The love triangle based Deewangi gathered enormous ratings, making its place among top Pakistani dramas of 2020. The screenplay houses a powerful yet twisted storyline, with bundles of ups and downs. However, the story concludes with a happy ending.
Read More: Hira Mani, Armeena Khan & Junaid Khan partnering for new drama serial