The famous quotes of Quaid-e-Azam Muhammad Ali Jinnah are very inspiring and motivating. His quotes are most sought after by the people of all ages.
Quaid-e-Azam Muhammad Ali Jinnah, the founder of Pakistan was a politician and a lawyer.
Jinnah the leader of the All India Muslim League, served the party from 1913 until the independence of Pakistan on 14 August 1947.
He served as the first Governor General of Pakistan till his death.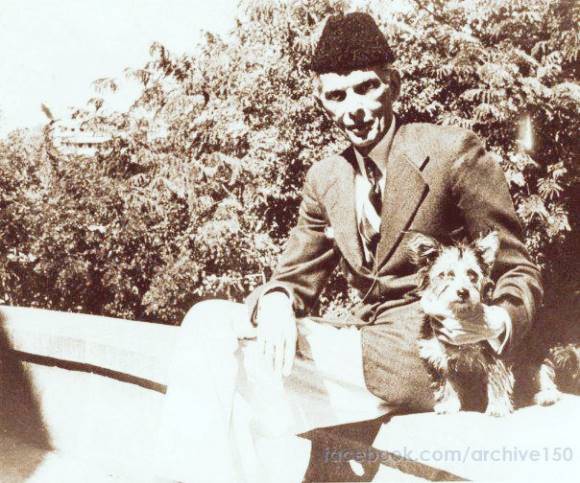 READ MORE: 23rd March Pakistan Day – Mili Naghmay (Patriotic Songs) Compilation
Quick Facts
Date of Birth: December 25, 1876
Date of Demise: September 11, 1948
Place of Birth: Karachi
DIED AT AGE OF 71
Parents: Poonja Jinnah, Mithibai Jinnah
Spouse: Rattanbai Jinnah (m. 1918–1929), Emibai Jinnah (m. 1892–1893)
READ MORE: Jinnah's First Presidential Address and How Far Have We Come
Quaid-e-Azam Muhammad Ali Jinnah: 69 Famouse Quotes
I do not believe in taking the right decision, I take a decision and make it right.
No nation can rise to the height of glory unless your women are side by side with you.
Think 100 times before you take a decision, But once that decision is taken, stand by it as one man.
We are starting in the days where there is no discrimination, no distinction between one community and another, no discrimination between one caste or creed and another. We are starting with this fundamental principle: that we are all citizens, and equal citizens, of one State.
If you will work in co-operation, forgetting the past, burying the hatchet, you are bound to succeed.
You are free; you are free to go to your temples, you are free to go to your mosques or to any other place or worship in this State of Pakistan. You may belong to any religion or caste or creed – that has nothing to do with the business of the State.
One of the biggest curses from which India is suffering – I do not say that other countries are free from it, but I think our condition is much worse – is bribery and corruption. That really is a poison.
I know there are people who do not quite agree with the division of India and the partition of the Punjab and Bengal. Much has been said against it, but now that it has been accepted, it is the duty of every one of us to loyally abide by it and honorably act according to the agreement which is now final and binding on all.
There is no parallel in the history of the world. This mighty subcontinent with all kinds of inhabitants has been brought under a plan which is titanic, unknown, unparalleled. And what is very important with regard to it is that we have achieved it peacefully and by means of an evolution of the greatest possible character.
Think a hundred times before you take a decision, but once that decision is taken, stand by it as one man.
I would still ask the government not to drive the people of India to desperation, or else there is no other course left open to the people except to inaugurate the policy of non-cooperation, though not necessarily the program of Mr. Gandhi.
The British Government very naturally would like to see in India the form of democratic constitutions it knows best and thinks best, under which the Government of the country is entrusted to one or other political party in accordance with the turn of elections.
There are two powers in the world; one is the sword and the other is the pen. There are great competition and rivalry between the two. There is a third power stronger than both, that of the women.
Democratic systems based on the concept of a homogeneous nation such as England are very definitely not applicable to heterogeneous countries such as India, and this simple fact is the root cause of India's constitutional ills.
Let those men who still have these misguided ideas, let those men who still have these hallucinations realize that by anarchism, by dastardly crimes, they cannot bring about good government; let them realize that these methods have not succeeded in any country of the world and are not likely to succeed in India.
Expect the best, prepare for the worst.
I see no reason why the Shias should be debarred from having their voice in the elected bodies and governmental institutions in any matter which affect the Shias. We must so organize the Muslim League that justice is done to every sect and section inside it.
Pakistan is not going to be a theocratic State – to be ruled by priests with a divine mission. We have many non-Muslims – Hindus, Christians, and Parsis – but they are all Pakistanis. They will enjoy the same rights and privileges as any other citizens and will play their rightful part in the affairs of Pakistan.
We are victims of evil customs. It is a crime against humanity that our women are shut up within the four walls of the houses as prisoners. There is no sanction anywhere for the deplorable condition in which our women have to live.
Black-marketers are really knowing, intelligent, and ordinarily responsible people, and when they indulge in black-marketing, I think they ought to be very severely punished because they undermine the entire system of control and regulation of foodstuffs and essential commodities, and cause wholesale starvation and want and even death.
It is only with united effort and faith in our destiny that we shall be able to translate the Pakistan of our dreams into reality.
The great majority of us are Muslims. We follow the teachings of the Prophet Mohammed (may peace be upon him). We are members of the brotherhood of Islam in which all are equal in rights, dignity and self-respect. Consequently, we have a special and a very deep sense of unity. But make no mistake: Pakistan is not a theocracy or anything like it.
Democracy is in the blood of the Muslims, who look upon complete equality of mankind and believe in fraternity, equality, and liberty.
The Western world, in spite of its advantages of mechanization and industrial efficiency, is today in a worse mess than ever before in history. The adoption of Western economic theory and practice will not help us in achieving our goal of creating a happy and contented people. We must work our destiny in our own way and present to the world an economic system based on the true Islamic concept of equality of manhood and social justice.
With faith, discipline and selfless devotion to duty, there is nothing worthwhile that you cannot achieve.
You will have to make up for the smallness of your size by your courage and selfless devotion to duty, for it is not the life that matters, but the courage, fortitude, and determination you bring to it.
I cannot understand the logic of those who have been deliberately and mischievously propagating that the Constitution of Pakistan will not be based on Islamic Sharia. Islamic principles today are as much applicable to life as they were 1300 years ago.
The weak and the defenseless in this world invite aggression from others. The best way we can serve peace is by removing the temptation from the path of those who think we are weak and, for that reason, they can bully or attack us. That temptation can only be removed if we make ourselves so strong that nobody dares entertain any aggressive designs against us. Pakistan has come to stay and no power on earth can destroy it
India is not a nation, nor a country. It is a subcontinent of nationalities.
I have full faith in my people that they will rise to every occasion worthy of our past Islamic history, glory, and traditions.
There is no power on earth that can undo Pakistan.
I insist you strive. Work, Work and only work for satisfaction with patience, humbleness and serve thy nation.
I have lived as plain Mr. Jinnah and I hope to die as plain Mr. Jinnah. I am very much averse to any title or honors and I will be more than happy if there was no prefix to my name.
My young friends, I look forward to you as the real makers of Pakistan, do not be exploited and do not be misled. Create amongst yourselves complete unity and solidarity. Set an example of what youth can do. Your main occupation should be in fairness to yourself, to your parents, in fairness to the State, to devote your attention to your studies. If you fritter away your energies now, you will always regret.
I have nothing to do with this pseudo-religious approach that Gandhi is advocating.
Any idea of a United India could never have worked and in my judgment, it would have led us to terrific disaster.
Islam expects every Muslim to do this duty, and if we realize our responsibility time will come soon when we shall justify ourselves worthy of a glorious past.
The story of Pakistan, its struggle and its achievement, is the very story of great human ideals, struggling to survive in the face of great odds and difficulties.
Pakistan not only means freedom and independence but the Muslim Ideology which has to be preserved, which has come to us as a precious gift and treasure and which, we hope other will share with us.
I sincerely hope that they (relations between India and Pakistan) will be friendly and cordial. We have a great deal to do…and think that we can be of use to each other and to the world.
I am not going to respect… gray hairs unless there is wisdom beneath them.
Failure is a word unknown to me.
No settlement with the majority is possible as no Hindu leader speaking with any authority shows any concern or a genuine desire for it.
Come forward as servants of Islam, organize the people economically, socially, educationally and politically and I am sure that you will be a power that will be accepted by everybody.
I don't take the right decisions, I take decisions and make them right
You have to stand guard over the development and maintenance of Islamic democracy, Islamic social justice and the equality of manhood in your own native soil.
When Mrs. Jinnah feels cold, she will say so and ask for a wrap herself.
My message to you all is of hope, courage, and confidence. Let us mobilize all our resources in a systematic and organized way and tackle the grave issues that confront us with grim determination and discipline worthy of a great nation.
We should have a State in which we could live and breathe as free men and which we could develop according to our own lights and culture and where principles of Islamic social justice could find free play.
With faith, discipline and selfless devotion to the duty, there is nothing worthwhile that you cannot achieve.
I shall never come to Punjab again; it is such a hopeless place.
No struggle can ever succeed without women participating side by side with men
For a real New India to arise, all petty and small things must be given up. To be redeemed, all Indians must offer to sacrifice not only their good things but all those evil things they cling to blindly – their hates and their divisions, their pride in what they should be thoroughly ashamed of, their quarrels and misunderstandings.
If we want to make this great State of Pakistan happy and prosperous, we should wholly and solely concentrate on the well-being of the people, and especially of the masses and the poor.
Character, courage, industry, and perseverance are the four pillars on which the whole edifice of human life can be built and failure is a word unknown to me.
We are now all Pakistanis — not Baluchis, Pathans, Sindhis, Bengalis, Punjabis and so on — and as Pakistanis, we must feet behave and act, and we should be proud to be known as Pakistanis and nothing else.
Religion should not be allowed to come into Politics…Religion is merely a matter between man and God.
I am almost inclined to say that India will get Dominion Responsible Government the day the Hindus and Muslims are united.
India's blood and India's gold was sought and unfortunately given – given to break Turkey and by the fetters of the Rowlatt legislation.
What I am afraid of is… Gandhi. He has brains and always tried to put me in the wrong. I have to be on guard and alert all the time.
The first duty of a government is to maintain law and order so that the life, property, and religious beliefs of its subjects are fully protected by the State.
You are free to go to your mosques or to any other place of worship in this State of Pakistan.
Think well before selecting your leader, and when you have selected him, follow him. But in case you find his policy detrimental to your interests, kick him out.
We maintain and hold that Muslims and Hindus are two major nations by any definition or test of a nation.
That freedom can never be attained by a nation without suffering and sacrifice has been amply borne out by the recent tragic happenings in this subcontinent.
Our object should be peace within and peace without. We want to live peacefully and maintain cordial friendly relations with our immediate neighbors and with the world at large.
Do not forget that the armed forces are the servants of the people. You do not make national policy; it is we, the civilians, who decide these issues and it is your duty to carry out these tasks with which you are entrusted.
We have undoubtedly achieved Pakistan, and that too without a bloody war, practically peacefully, by moral and intellectual force, and with the power of the pen, which is no less mighty than that of the sword and so our righteous cause has triumphed. Are we now going to besmear and tarnish this greatest achievement for which there is no parallel in the history of the world? Pakistan is now a fait accompli and it can never be undone, besides, it was the only just, honorable, and practical solution of the most complex constitutional problem of this great subcontinent. Let us now plan to build and reconstruct and regenerate our great nation…
Nations who love and sacrifice for their countries, find the honorable place in history.
READ MORE: 'Quaid-e-Azam' Mohammad Ali Jinnah (1876-1948)
READ MORE: Pakistan Resolution Day – 23rd March 1940
READ MORE: Jinnah's Speech on Two Nation Theory