Travel from Islamabad/Rawalpindi (Twin cities) to the city of lights (Karachi) now by luxury Air-conditioned, Business Class Bus – Spacious with more leg space equipped with Android Tablet with every seat, USB port and 24/7 Internet WIFI connectivity on board.
Top 3 Luxury Bus services from Islamabad to Karachi vise Versa, Here's a simple travel guide before you book your seat MUST READ BEFORE YOU TRAVEL!!
There are Three Options are on Top when it comes to travel by Bus from Islamabad/Rawalpindi to Karachi and vise versa.
Top 3 Luxury Bus Services
Islamabad to Karachi / Karachi to Islamabad
Faisal Movers
Daewoo Express
Kainat Travels
Faisal Movers
Personally I ranked Faisal Movers service as on the top because of the Executive and Business Class Spacious Seats equipped with Android Tablet, connected with WI-FI Internet and serving the best meal on board.
Faisal Movers offer two types of Buses from Karachi to Islamabad, Executive, and Business Class, Fares are Rs 3800 and Rs 4800/-.
Faisal Movers Bus Terminal in Islamabad at 26 Number Chungi timing variates depending on the weather condition however travel time is only 17 hours in which they serve meal onboard and travel via Motorway.
I would highly recommend traveling with Faisal Movers as they are the best in the business so far, providing all the facilities and buses are luxurious.
Read More: Top travel destinations for 2020 that you might want to consider
Daewoo Express
There was a time when Daewoo Express ruled the transporation business in Pakistan, However, now the best service is limited within Punjab only and when it comes to travel from Karachi to Islamabad, Daewoo Express Buses aren't luxurious as its competitors nor they provide meal on board and due to poor service at times there is no Internet WIFI connectivity on the go.
Daewoo Express Executive Bus service from Islamabad to Karachi takes around 17 to 18 hours travel time and route is from Motorway similar to Faisal Movers and Kainat Travels.
Incase if you are not getting a seat in Faisal Movers and Kainat Travels, you might consider Daewoo Express which is not cheap as Kainat Travels and slightly express than Faisal Movers without any facility.
Kainat Travels
Kainat Travels started (Islamabad/Rawalpindi to Karachi) Luxury Bus Service from 25th June 2018 Travel with ultimate luxury at the very economical promotional fare. 
The State of the art Bus equipped with all the features makes your journey memorable introduced by Kainat Travels.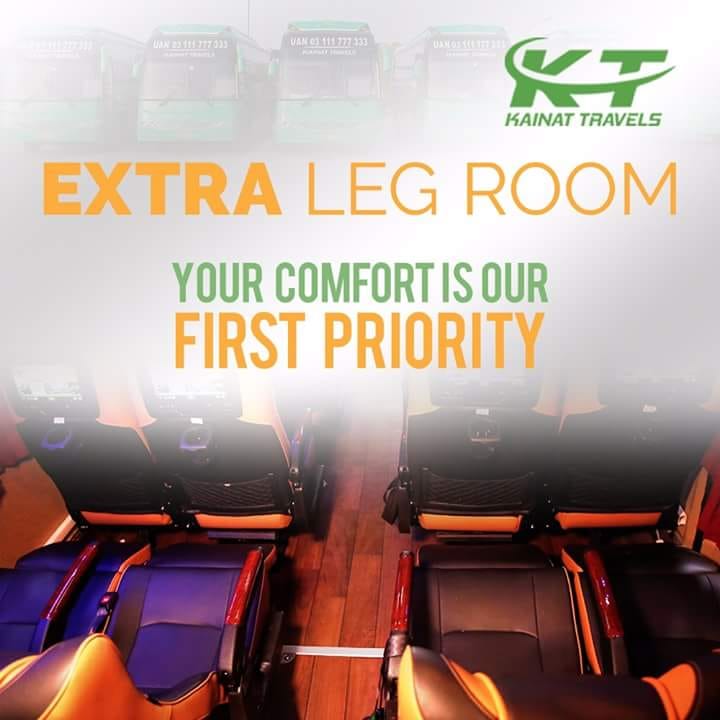 Traveling by Train in Economy class (Rawalpindi to Karachi) costs around 1800/- Lower AC costs 3950/- AC Sleeper costs 6550/- meanwhile Greenline Business Class costs 7000/- comparing to these fares currently Kainat Travels Luxury Bus Service seems ideal choice since the journey duration 18 Hours which is almost the same.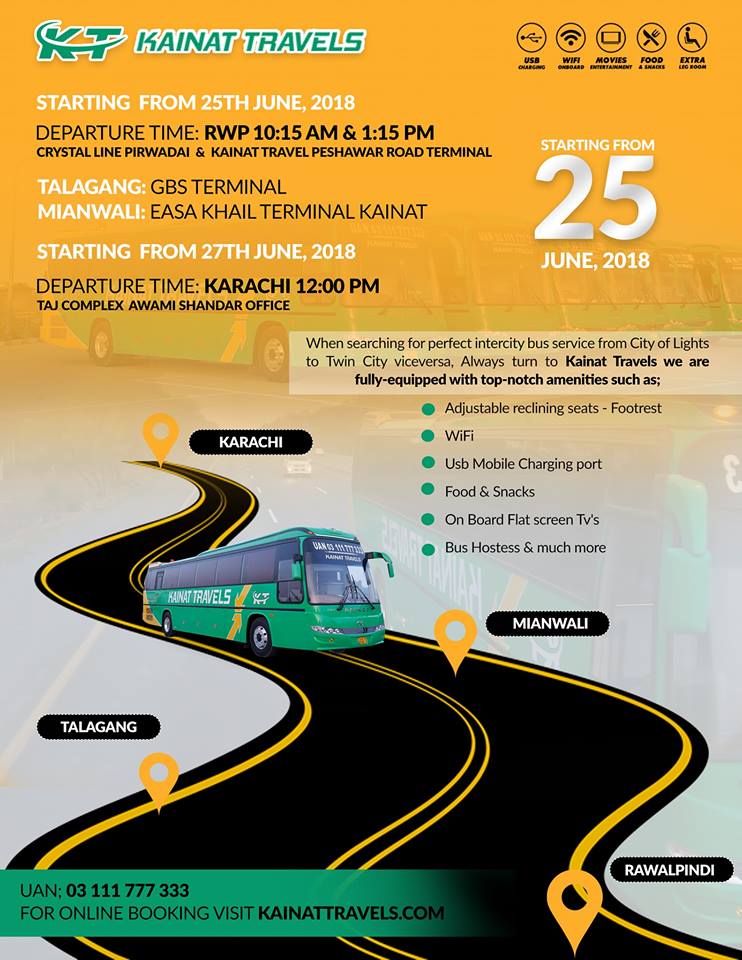 Comparing the fares with Daewoo Express and Faisal Movers, Kainat Travels promotional fares are cheaper.
All phonic reservations would be canceled 24 hours before departure buy your Ticket to avoid any hassle.
For Reservation Call UAN: 03 111 777 333
Planning to visit Azad Kashmir Must Read Guide: Top 10 places to visit in Kashmir
Follow us on Facebook / Twitter / Instagram and stay updated.