KARACHI: A massive fire breaks out in the slums located in Teen Hatti, Liaquabad area of Karachi on Tuesday night.
According to sources around 400 tent homes 'Slums' engulfed due to the fire breaks out.
Teen Hatti Liaquatabad Fire
The cause of the incident yet has not been confirmed meanwhile on social media #TeenHatti started trending on Wednesday morning hours.
The Video Footage from the scene shows how massive Teen Hatti, Liaquatabad fire is.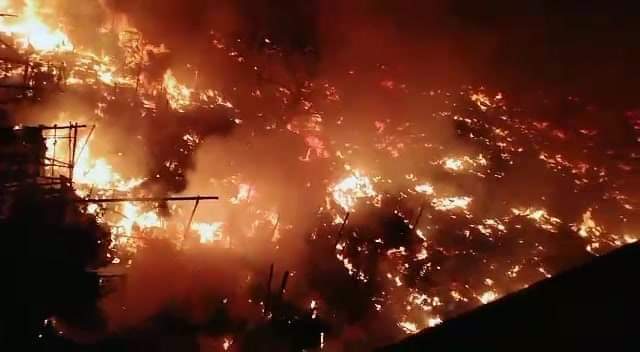 Read More: Justice For Hooznoor: Little princess brutally raped and murdered
So far, only two injured reported, fire tenders dispatched right after the incident was reported to the scene.
While no official figures are shared by the government, Karachi Water and Sewerage Board have imposed an emergency at all the hydrants in the city.
Police officer, Ali Rizwan (ASI) reached along with his team to help out the people.
The water tankers are being to the site of the incident to support firefighters.
More than 400 tent-houses burnt in massive fire incident at Teen-Hatti area Karachi, confirmed PTI MPA Raja Izhar.
Read More: Storm Gloria: Woman freeze to death in Spanish Park
Follow INCPAK on Facebook / Twitter / Instagram for updates.