ISLAMABAD: These are some important accouncements regarding the Ehsaas Emergency Program since many beneficiaries are facing trouble getting their payouts at distribution centers or haven't received a response after registering.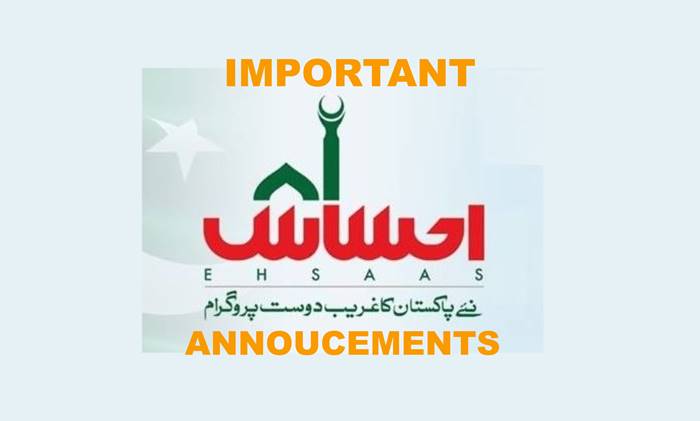 Dr Sania Nishtar made some important announcements regarding some of the main issues that were being faced by beneficiaries getting their payment from Ehsaas Emergency Program payment centers even those who are waiting for a response after registering.
Read more: Ehsaas Rashan Portal launched by PM [How to Apply].
These announcements were made by Dr Sania Nishtar on Twitter and cover question on what to do in case the you have not received a response regarding payment, your application is still under review, eligible beneficiary such as a father or mother has passed away or biometric verification at payment point isn't working.
یہ اعلانات ڈاکٹر ثانیہ نشتر نے ٹویٹر پر کیے تھے اور اس سوال کا احاطہ کیا تھا کہ اگر آپ کو ادائیگی سے متعلق کوئی جواب موصول نہیں ہوا ہے تو آپ کیا کریں ، آپ کی درخواست ابھی زیر غور ہے ، اہل فائدہ اٹھانے والے جیسے والد یا والدہ انتقال کر چکے ہیں یا بائیو میٹرک تصدیق ادائیگی کے مقام پر کام نہیں کررہا ہے۔
Announcement 1:
In case you have applied for Ehsaas Emergency Program and got a response saying that your application is under review, you will have to wait 15 days for a follow up response telling you whether you are eligible.
Annoucement 2:
If you get a response saying that you are eligible like in the photo below, you will need to wait for a second follow up SMS that includes the same of the beneficiary with the date when you can receive payment. All you need to do is take your CNIC to the payment center to receive payment.
Announcement 3:
In such a case that your CNIC has expired, you can still receive your payment on the expired CNIC if it expired after September 2019.
Announcement 4/5:
If beneficiaries of Ehsaas Emergency Program are having trouble with their biometric verification they can contact NADRA office after 27 April and get the matter sorted out and receive payment.
In the same way if a family member such as a parent is eligible and have passed away, you can contact NADRA office to get the matter sorted. NADRA offices will be open from 27 April 2020.
Read more: Sindh Govt gives 25pc relief on Property & Motor Vehicle Tax.