Punjab: The Excise and Taxation Department is all set to go digital by replacing the Old Registration book with a new 'Smart Card'  from 24th October 2018.
The Excise & Taxation Department made the announcement earlier before the launch in February 2018, However, The New Digital Smart Card will be replaced by Registration Book from tomorrow.
The Punjab Safe City Project (PSCA) gave the proposal to the Excise & Taxation Department along with new vehicle number plate design.
Smart Card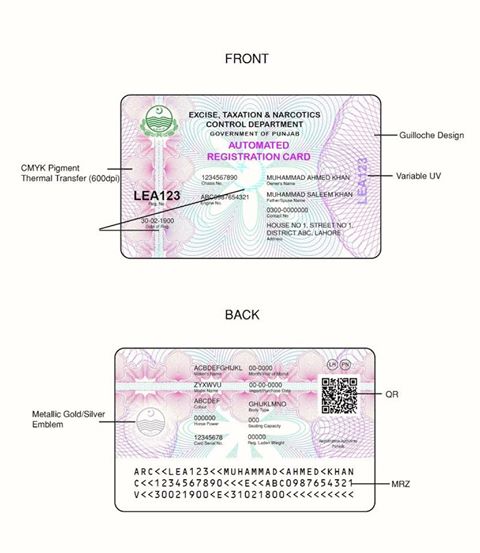 The Smart Card to be issued for all new vehicles registered and the Smart Card fee is Rs.530/- Those who want to replace old registration book can obtain new Smartcard by paying the same amount.
The Punjab Government's new initiative to introduce Smart Card of vehicle registration is to discourage fabrication, forged documents and to streamline the whole registration process.
What info will be carried by the smart card?
The smart card will hold the basic information of the vehicle and its owner as follows:
Vehicle owner's name
CNIC/Passport details
Vehicle's chassis number
Engine number
Registration number
Date of registration
Previous registration (if any)
The expiry date of the token tax
Number of cylinders
Type of vehicle's body
Vehicle's color
Maker's name
Class of vehicle
Tyre size
Year of Manufacturing
Seating capacity
Horsepower/CC
Assessed annual tax
From 24th October 2018 Excise & Taxation Department will discontinue Old Registration book and issue only New Smart Card.
Sindh Government have initiated the same project as well