MUZAFFARABAD: The driver of Additional Secretary services runs over a first semester student in University of Azad Jammu & Kashmir.
The incident took place within the university premises around 1300 hrs, when a reckless driver named ashiq Hussain s/o Abdul Karim Qureshi was overspeeding and runs over a student of Education Department, First semester student Hafifa Batool d/o Muhammad Faiz Chughtai.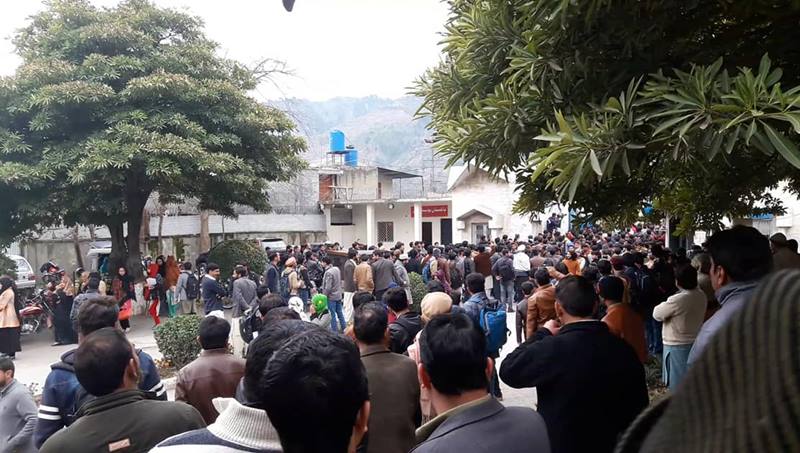 Driver Ashiq Hussain was driving, Government vehicle, Toyota Prado TX, Registration number MDGA-348 of Additional Secretary Services Raja Khalid Saleem.
Reckless driver was over speeding within the campus when the vehicle hit the student.
Injured Hanifa Batool was rushed to the CMH Hospital where she couldn't recover and died this morning around 6 AM, January 10, 2019.
University Students protested and demanded University officials to register FIR against the additional Secretary's driver ashiq Hussain.
The Driver Ashiq Hussain is in Police custody.
After the incident Students demands University of Jammu and Kashmir
To file FIR and pursue on the behalf of students.
To Register the FIR on behalf of the university
To supervise the investigation
To Review safety and the security within the campus
Not to allow irrelevant person 'outsiders' within the campus.
To build Speed breakers.
The University of Jammu and Kashmir will remain closed tomorrow on January 11, 2019 and all the papers have been rescheduled due to the death of slain student Hanifa Batool.
Also Read: Stay Cautious Against Impersonators: Islamabad Police