AZAD KASHMIR: SCO has introduced two new 4G devices "SCO 4G Dongle" and "SCO 4G MIFI" along with new Internet Packages and SCO Smart Tv APP which is similar to PTCL Smart TV app for Azad Jammu & Kashmir (AJ&K) and Gilgit Baltistan (GB) regions
SCO has announced to debut these devices and new packages on Pakistan Resolution Day, March 23, 2019.
SCO has announced two state of the art products and one offer for its valuable customers. The details of these services are:
Dongle/MIFI
SCO is launching "SCO 4G Dongle" and "SCO 4G MIFI" to its customers. You can choose from two different SCO internet devices with different packages especially designed to give SCO customers seamless connectivity.
Both devices are data compatible and can only be used on SCO's network. SCO has offered 4G packages with up to unlimited data limit per month.
SCO 4G Dongle
SCO 4G Dongle is a high speed USB internet modem that plugs into Laptop/PC and gives instant internet access on the go. The device can connect upto ten wifi devices at the same time.
SCO 4G MIFI
SCO 4G MIFI is a high speed internet modem, providing you blazing speed everywhere in the network. The device can connect upto 10 wifi devices at the same time and offers uninterrupted connectivity.
Prices
Introductory prices for both the devices are:
4G Dongle: Rs. 1,800
4G MIFI : Rs. 2,500
SCO 4G Dongle and MIFI Packages
Below are SCO's special packages for 4G Dongle and 4G MiFi devices. These packages will be available on both devices.

SCO SMART TV APP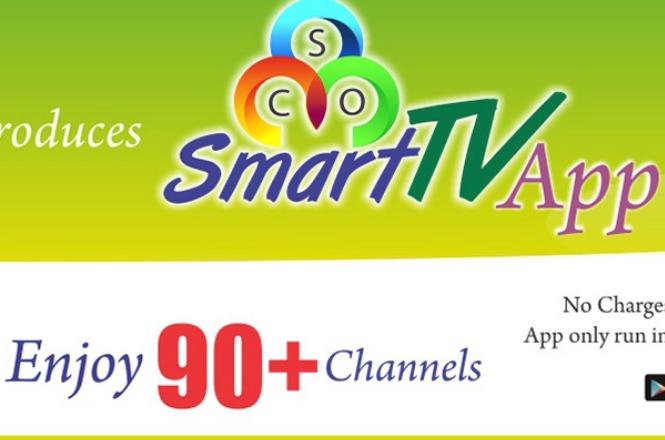 SCO also brings phenomenal facility for all its valued customers of AJ&K and GB in the shape of Smart TV app. which provides a platform for live streaming of 90+ channels using SCO internet. SCO is the pioneer in AJ&K and GB that is providing this kind of product for its subscribers.
The app can be downloaded for free from the App Store or Google Play. The app comes with over 90+ local and international channels, so you can stream your favourite dramas, movies and TV shows. SCO Smart TV App will bridge the entertainment gap for the youth of AJ&K and GB.
Download SCO Smart TV app from Google Play Store
Azadi Package (Mini Super Card)
In the spirit of Pakistan Day, Mini Super Card made even more SUPER. Now get DOUBLE LOAD upon loading Mini Super Card. This offer is valid only on 23rd March.

Visit SCO official website for more information.
SCO PRESS RELEASE IN URDU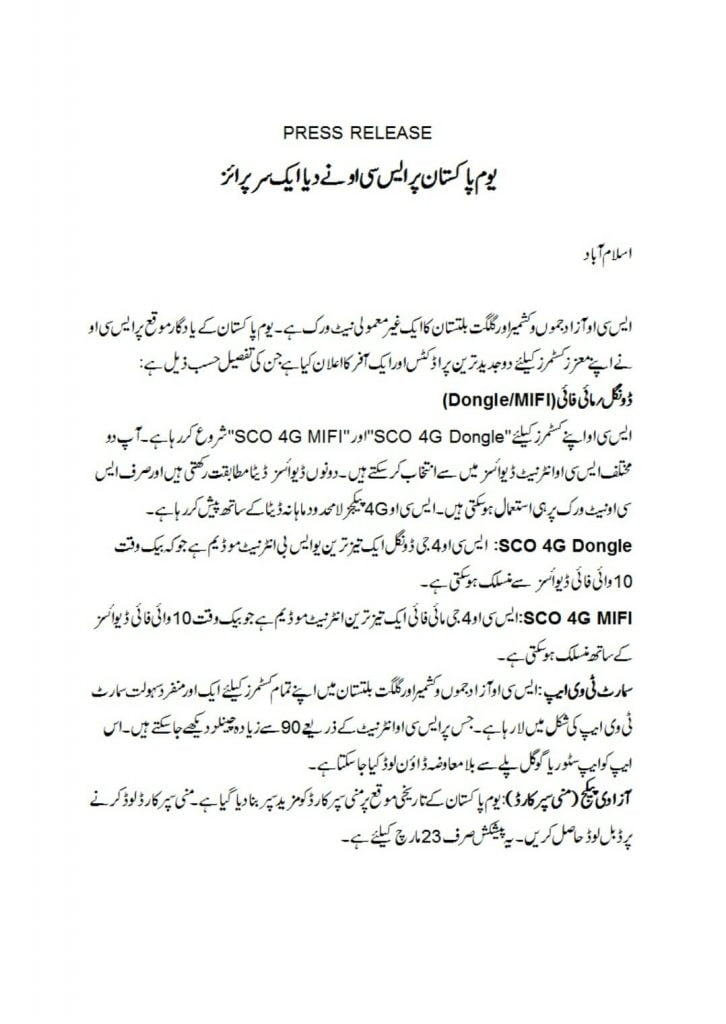 Follow INCPAK on Facebook / Twitter / Instagram for updates.