Three policemen were martyred during TLP protest on Friday as they clashed with demonstrators from the religious party who is rallying in Lahore to demand the expulsion of the French ambassador to Pakistan and the release of their chief Saad Hussain Rizvi, the son of late Khadim Hussain Rizvi. It is pertinent to mention that party's chief Saad Hussain Rizvi has been in the custody of Punjab Government since April 12 on charges of inciting violence.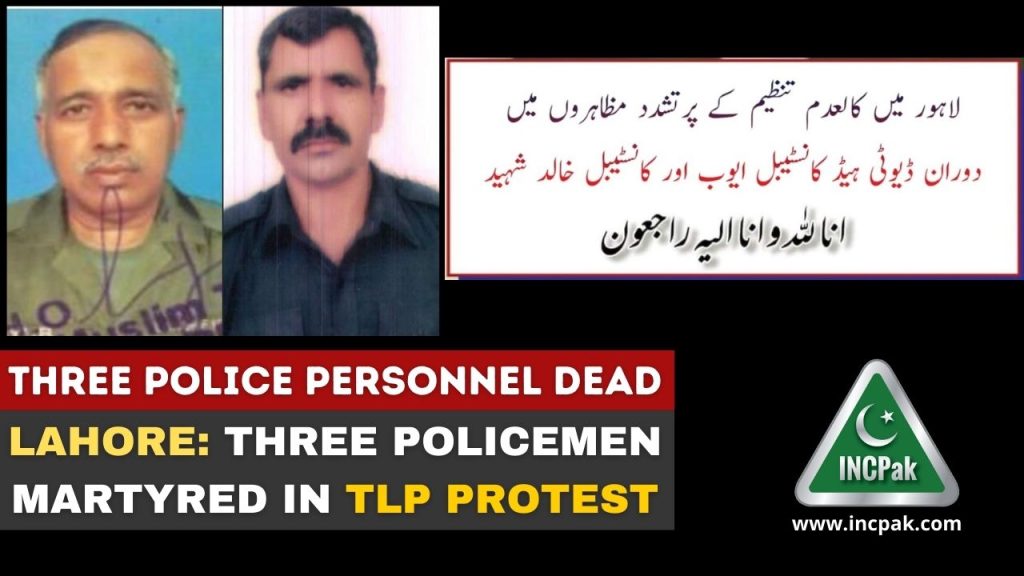 According to the details, the three policemen, Constable Ayub and Constable Khalid, were hit by a vehicle as thousands of demonstrators gathered in the TLP protest to prepare for their long march towards Islamabad. The police spokesperson Arif Rana said that protestors attacked the security checkpoint turning violent. "They had assured us that they would remain peaceful but they turned violent," he said.
Meanwhile, TLP media coordinator Saddam Bukhari said that police had attacked TLP workers despite the peaceful rally but Punjab Chief Minister Usman Buzdar shared deaths of the the three policemen who were martyred in the clashes while condemning the demonstrators. "No one can be allowed to take the law into their own hands," he said.
The Punjab Government had formed a committee to hold talks with Tehreek-e-Labbaik Pakistan (TLP) as the group started their long march from Lahore towards Islamabad. However, the negotiations broke down and TLP called its supporters to gather and march towards the capital.
تحریک لبیک سے مذاکرات کے لیے ہم نے پنجاب کابینہ کے سینئر اراکین راجہ بشارت صاحب اور چوہدری ظہیر الدین صاحب پر مشتمل کمیٹی تشکیل دی ہے

حضور اکرم ﷺ کی سنت کے مطابق ملک میں امن و آشتی کے لیے ہم سب کو مل کر کام کرنے کی ضرورت ہے

— Usman Buzdar (@UsmanAKBuzdar) October 22, 2021
Major roads (including entry and exit point) in Lahore, Rawalpindi and Islamabad have been closed in order to control the TLP protest and keep demonstrators from marching towards Islamabad.
Read more: