Jazz brings its customers the Infinity Bundle Package giving them 100 Jazz minutes for just Rs. 25 while offering unlimited validity for the package.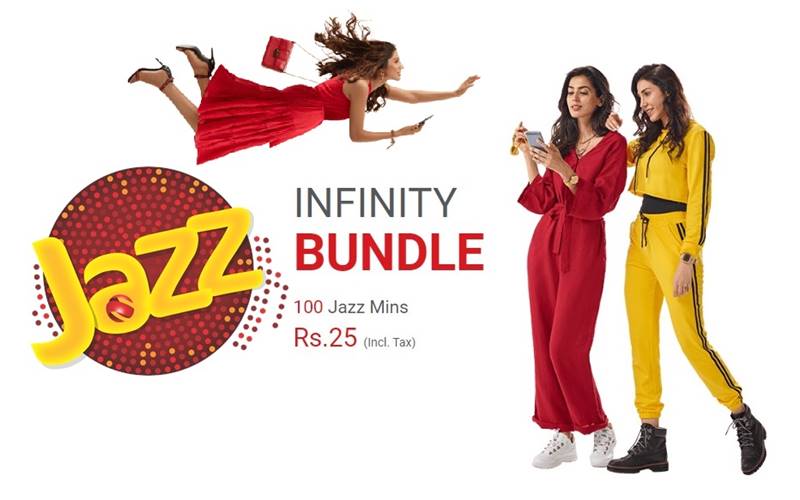 Although the company claims that the Jazz Infinity Bundle has an unlimited validity, its actually only valid for 180 days. However, those 100 minutes will be long gone by the time this package expires.
How to subscribe to Jazz Infinity Bundle Package?
| | |
| --- | --- |
| Package Minutes | 100 Jazz Minutes |
| Subscription Fee | Rs. 25 (incl. tax) |
| Recharge Required | Rs. 28.2 |
| Subscription Code | *710# |
| Status Code | *710*2# |
| Information Code | *710*3# |
| Validity | 180 Days |
Jazz recently also introduced their Weekly Voice Offer with 500 on-net minutes along with the ability to share 30 of those minutes.
More Details: Jazz Weekly Voice Offer Package (2020).
Terms and Conditions:
Upon dialing *710#, customer will be subscribed to Infinity Bundle for exactly 180 calendar days.
This bundle is non-recursive and customers will have to dial *710# again to avail the bundle more than once.
All free jazz & Other network minutes/SMS/Data will be posted at the time of subscription.
Free jazz & other network minutes and SMS will be usable 24 hours a day (no time limit).
Call Setup charges are not applicable for this bundle. However, a balance of Rs.0.15 needs to be maintained to make calls through bundle.
Read more: Jazz SIM Lagao Offer 2020 [Reactivation Code].
Follow INCPak on Facebook / Twitter / Instagram for updates.