Looking for Free Minutes Jazz to Jazz/Warid and Other networks, Free SMS and the Internet all in one? Jazz has introduced 'Mega Super Duper Weekly Offer'.
Jazz revamps Mega weekly Package by adding an additional 5000 MB Internet for late-night users.
The subscriber gets 5000 On-net minutes Jazz to Jazz and Warid, 50 off-net minutes, 5000 SMS to any network plus 10 GB Internet (5000 MB between 2am to 2pm).
Trending: Jazz 4G SIM Offer – Upgrade Your SIM TO 4G Network and Enjoy Free Offers for One Week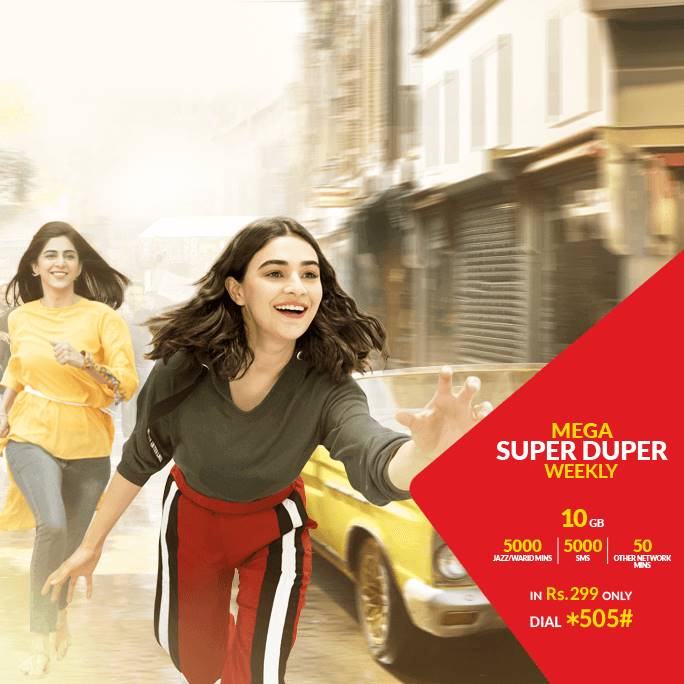 Warid customers can also avail Mega Super Duper weekly offer.
Jazz and Warid users can avail Mega Super Duper Weekly Offer in just Rs.299/-
Mega Super Duper Weekly Offer Package detail:
Jazz and Warid customers can avail this offer
To Subscribe Dial *505#
Subscription Fee Rs. 299 (Incl. tax)
Validity Weekly
Call setup charges: NA
For Zong customers: Zong 777 Offer 2019: 7Gb, 7days in Rs.7/- [Detail]
For Ufone Customers: Ufone SIM Lagao Offer: Free Minutes,MBs, SMS
Terms & Conditions
Offer is available for Jazz and Warid prepaid subscribers only
Upon dialing *505#, customer will be subscribed to Mega Super Duper offer for x+6 days
All incentives will be posted at the time of subscription and will expire at 23 59 hours of the 7th calendar day
Free Minutes/ SMS/ Data will be usable 24 hours a day (no time limit)
On-net minutes are usable for both Jazz and Warid
Free data MBs are consumable on 2G/3G/4G network
Bundle is non-recursive and multiple subscriptions are allowed
Customers will have to dial *505# again to avail the bundle more than once
In case of multiple subscriptions previous incentive will be added and new validity will be applicable
Call Setup charges are not applicable for this bundle. However, balance of Rs. 0.13+t needs to be maintained to make calls through bundle
Customer will be charged at per his/her respective base rate package incase bundle incentives have exhausted and customer is not subscribed to any other bundle. For data, base rate will be charged i.e. Rs. 3.6+t/MB. Charging pulse will be 512KB
Limited time offer, it is subject to change anytime
INCPAK Packages provides all the details of SCOM, Telenor, Jazz /Warid, Ufone and Zong call, data packages information.
Jazz Packages
Follow INCPAK on Facebook / Twitter / Instagram for updates.