Zong 4G continues 777 offer since 2015 now the offer is renewed for 2018-19. Everyone wants the best budget offer and Zong 4G has something which definitely fills your appetite.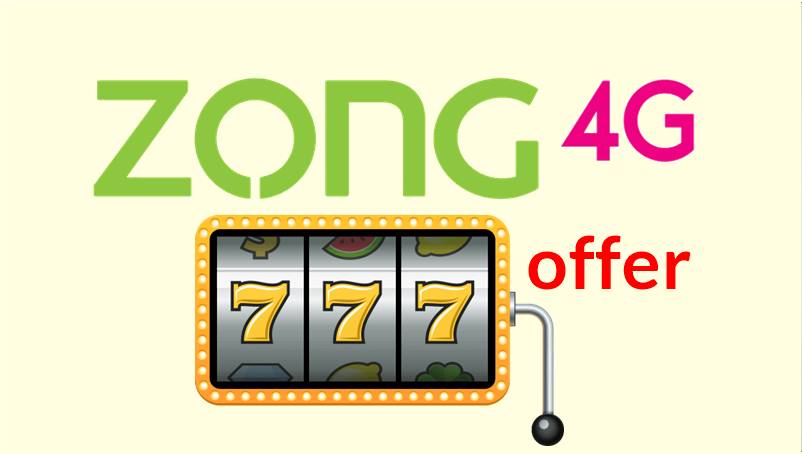 About Zong 777 Offer
Zong 777 Offers, 7 Gb data for 7 days and just 7 rupees (Incl.tax) but this offer is valid for Zong new customers or subscribers who haven't used their Zong SIMs since last 60 days, they can enjoy
Read More: Jazz 4G SIM Offer – Upgrade Your SIM TO 4G Network and Enjoy Free Offers for One Week
for 7 Days in just To activate Zong 777 Offer, SMS SUB777 to 6464 and enjoy 7GB Super 4G internet for 1 whole week.
7000 MB (7GB) Internet (Data)
In just Rs. 7/-
Validity 7 Days
READ MORE: Ufone SIM Lagao Offer: Free Minutes,MBs, SMS
Zong 777 Offer 2019: 7Gb, 7days in Rs.7/- [Detail]
Zong 777 Offer Activation Code:
To activate the offer, all you need to do is simply follow the steps given below:
Go to "Write Message Option"
Type SUB777 and send it to 6464
Within a minutes, you will receive a confirmation SMS that the offer has successfully been activated on your number.
Terms & Conditions:
Zong 777 Offer can co-exist with all other Zong Internet Packages
This is not an auto-recursive offer, only customers who haven't used their SIMs since last 60 days or new subscribers are eligible to avail this offer
This Packages is valid for 3G & 4G networks only
Fair usage policy applies
Addons are available for this offer. Same 2 Addons in the case of normal data packages will be available for 777 offer as well
Out of bundle charges are Re. 1/MB.
Find out Latest Ufone Free Basics Offer 2019
Trending: How to Unlock Zong 4G Wingle [Easy Method] Tested !
INCPAK Packages provides all the details of SCOM, Telenor, Jazz /Warid, Ufone and Zong call,data packages information.
Zong Packages

Follow INCPAK on Facebook / Twitter / Instagram for updates.