A new feature known as the Ambient Mode for Google Assistant has started to role out for select devices. This new feature will help users a lot. What this feature does is essentially turn your smartphone in to a smart display while it's charging. This feature will be limited only to Android devices and according to Google, the feature will be available on Android 8 and above.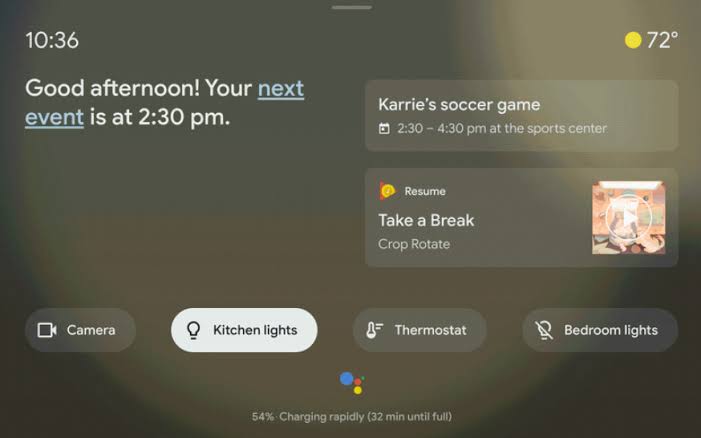 This new Google Assistant Ambient mode was first announced back in September to be released to a select number of devices that included the Lenovo Smart Tablets, Nokia 7.2 and Nokia 6.2 smartphones.
Google Photos has an important part in the Google Assistant Ambient Mode. The feature will be linked to Google Photos will will basically turn your phone into a digital photo frame. This will allow the user to play music, create playlists, go through notifications and as well as reminders and even allow users to control any smart home devices and all of that directly from the lock screen too.
Google put out two tweets from their Google Photos and Android twitter accounts about the new feature.
The most surprising part about this new feature is that Google's own Pixel phones are not yet confirmed to be getting this new features. Google is reportedly going to be rolling out this feature for other major smartphone manufacturers like Sony and Xiaomi.
ArsTechnica has reported:
The new ambient mode shows a quick greeting message at the top, followed by your calendar, weather, upcoming flights, and notifications. Below that is a quick settings section that shows things like a do-not-disturb toggle and smart home controls for lights and thermostats. There's also a photo frame mode. It looks like a handy screen that could pop up when you're just charging your phone before bed
This will still take some time to release officially but right now only select devices have gotten it as a test run. So we can expect to see it being rolled out to other devices soon.
Read more: Microsoft bringing Google services to Outlook.
Follow INCPAK on Facebook / Twitter / Instagram for updates.