Google has finally launched YouTube Premium in Pakistan, which allows users to stream videos on the platform without any advertisements along with several other features like YouTube Music, Background Play and more.
YouTube Premium Features
Ad-free Video Playback
Background Play
Downloads
YouTube Music Premium
Picture-in-Picture
1080p Premium (Higher Bitrate)
Afterparties and Live Chat
Smart Device Integration
Co-Watch With Google Meet
Special Offers and Early Access to New Features
YouTube Premium is one of the better streaming options available on the internet as it offers a wide range of benefits to the users as mentioned above. Users not only get to use YouTube Music app for free but also get to watch ad-free videos on the YouTube app.
The YouTube Music app provides users the ability to download songs, watch videos, see lyrics along with several other features, including a library of more than 80 million official songs and other content.
The Premium version also supports Picture-in-Picture (PiP) mode, so you can watch YouTube while doing anything else on your phone
YouTube Premium Price in Pakistan
YouTube Premium offers the following plans in Pakistan:
Individual Plan [Rs. 479 per month]
The price of YouTube Premium in Pakistan is Rs. 479 per month, however, you get a 1-month free trial with Google reminding you 7 days before your first billing so that you have enough time to cancel your subscription if you think it isn't for you.
Family Plan [Rs. 899 per month]
YouTube Premium also comes with a Family Plan that costs Rs. 899 per month with the ability to add 5 family members (aged 13+) in your household (similar to Netflix or Spotify). This plan is also available with a 1 month free trial.
Student Plan [Rs. 329 per month]
The price of the YouTube Premium Student Plan in Pakistan is Rs. 329 per month with a 1 month free trial. However, the plan is only available to eligible students with an annual verification process.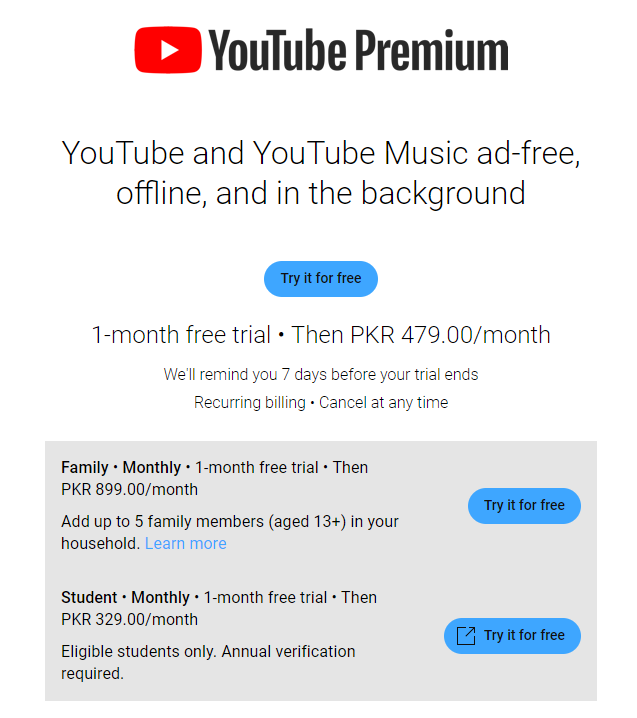 Read more: Netflix Packages Pakistan – Netflix Subscription Price – 2023.