PPP official website has been hacked by PHC  and TeaM MaXiMiZers , earlier  Team MaxiMiZeRs Hacked PPPP  ( four P's ) website, this time in the joint venture they took the tipple P  ( Pakistan Pepople's Party  Official website down ) 
Domain Info and Mirror 
URL  :-              http://www.ppp.org.pk/new/
mirror :- http://zone-h.com/mirror/id/22636392
PPP Official website hacked by PHC and Team MaxiMiZeRs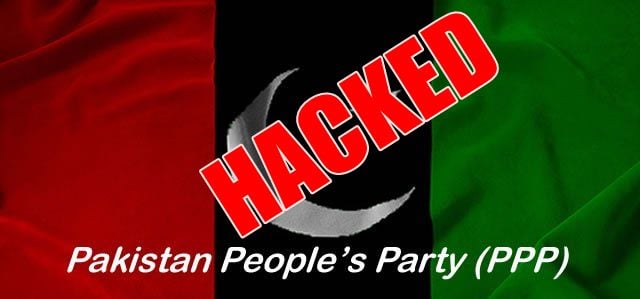 Jawab do! : 

Kiya Yahi Hy Wohi Pakistan hai? Jis k liye hamry bapp dadda ne qurbaniyan di? Kiya yehi hy wo Pakistan hai jis k Masoom Bachon ka Koi Mustaqbil nahi? Kiya yehi hy wo Pakistan hai jis me Roz na-jany kitny Be-Gunnah Log Bila-Waja mary jaty hain? kia Hum ne ic hi Pakistan k liye Qurbaniyan di ? Kia ici trah k Halat dekhny k liye hum ne Pakistan bnaya? Kia apus me ek dusry ko Marny se Pakistan ek Kamyab Mulk bn skta hai?Kia Hath pe Hath rakh kr Media k samny Sirf Afsos k Izhar se wo Be-Gunnah Zinda ho skty hain? :) Afsos to humain hona chiye k sirf Roads or khali Beyanat per Umeed lgaye bethy hain…….
 
Ye wohi Hukmraan hain jo Vote lety huye Or hoty hain Service dety huye Orr Hoty hain….Zrrra Sochiyee :) kis traf ly kr ja rahy hain app Apny waddy pury krain phir Afsos ka Azhar kijiye ga….
Mera TaluQ kisi bhi Political Party se nahi me ne kisi k nuqsan or nafy ko nahi dekha Jo sAchai hy wohi Beyan kr di..
PHC and Team MaxiMiZers sound more emotional this time about the Pakistanis as compared to the previous attack which was directly to the Co-Chairman Asif Ali Zardari.
Pakistani Hackers are hacking these websites to convey the message to the top political leadership.
It's not the first time that PPP's official website been hacked but in the past we have witnessed several times, I think PPP must hire some good IT fellas to secure their websites, Pakistani Hackers want the justification this time " JAWAB DO !!!! "