ISLAMABAD: Pakistan Telecommunication Ltd (PTCL) has recently revised its broadband packages again with their tariff. The old 6MB, 10MB and 20MB packages.
These Packages are no longer available the but instead, they have been changed/upgraded to 6MB>8MB, 10MB>15MB and 20MB>25MB. Current users of the old packages will not be upgraded automatically but will be charged according to the new packages.
PTCL Broadband New package charges are:

8MB for Rs. 2920/- (final bill – including tax)
15MB for Rs. 3560/- (final bill – including tax)
25MB for Rs. 4300/- (final bill – including tax)
Above mentioned Packages rates are for provinces excluding Islamabad.
Now current users need to call PTCL helpline and have their packages upgraded to the newer packages manually otherwise they will keep getting old package speeds and will be billed according to the new package. So users are advised to call the helpline and upgrade or downgrade their package according to their requirements.
Read More: PTCL Smart Tv Channels list
The revised PTCL package is as follows: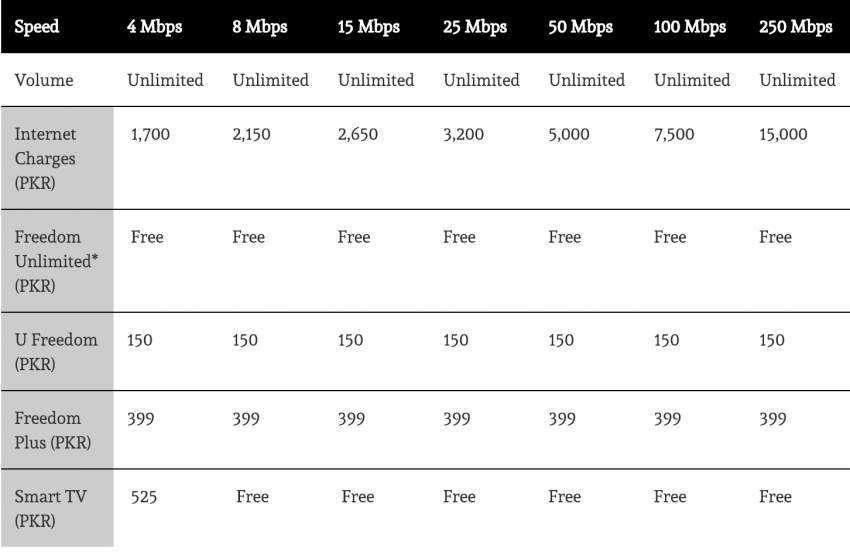 Note:
Call 1218 to get your package upgraded
Provincial taxes are not applied on Islamabad (Capital)
PTCL does not offer 50 off-net minutes from January 1, 2019.
Freedom Package offers only PTCL to PTCL and PTCL to Ufone.
PTCL Smart TV is free from 8 Mbps above packages.
If we are missing something kindly comment below to share with others.
Also Read: PTCL injects PKR 4 Billion in U Microfinance Bank for growth