Are you looking for the perfect gaming experience? Do you want your game's FPS to increase with one click? In this case, you know you can get everything and more with Smart Game Booster. This booster is the best you will choose for this year and will make your games even more exciting than before. Some people take games very seriously, and for them, the speed and performance of the PC are essential.
Some players spend several thousand dollars on buying a gaming computer or laptop. But guess what? Now, all those extra thousands of dollars can only be saved with the help of Smart Game Booster, which is an innovative product for game lovers. This booster game has many features, and today we will discuss it in detail, so you know that it is a worthy product that will not disappoint you in any way.
Luckily, the Smart Game Booster are giving away 20,000 free licenses to boost your gaming speed. Just click the giveaway link to free download it and get a free code.
Improve Your Game with One Click
What does every player want? A seamless and hassle-free game, and that's Smart Game Booster. It helps free up more system resources. It also ends all unnecessary racing processes and also clears the RAM, so you don't have to worry about your game.
If you enjoy playing Fortnite or PUBG or other computer games, this booster is a must-have for you, and we guarantee you will love how it works. To get the most out of FPS, there is nothing stronger or more valuable than this product, so don't wait any longer and put it in your hands now. Simply click on its "BOOST" button and it will quickly end the unnecessary processes.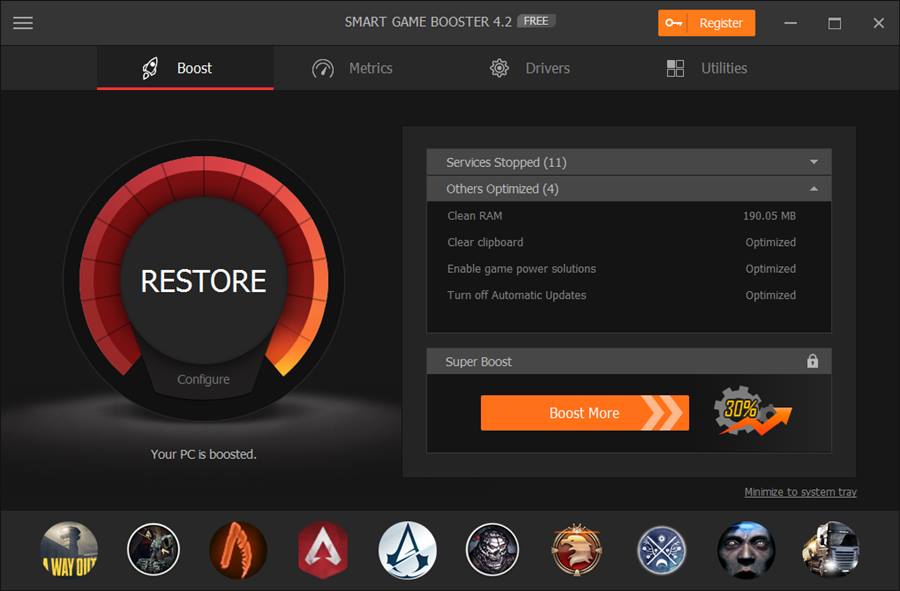 GPU & CPU Temperature Monitor
With this GPU temp monitor, you can get real-time hardware monitoring, which is another excellent feature. During playback, you can see the temperature of the monitor, motherboard, GPU, CPU, and even the fan speed. Isn't it beautiful? Well, of course, and like other professional gamers, you should buy this booster to end all your gaming problems.
Free Online Mic Test Tool
Its online Mic test tool is totally free to use. There is no hidden fees and no annoying ads. It is 100% secure, so no worries about there is something recorded or uploaded during the Mic test. Just check if your microphone is working correctly with one click.
No More Slow Games
With an overloaded system, your game can be severely damaged and frustrating, but don't worry, as the CPU temperature monitor and FPS booster we're talking about will be there to save you. With the Smart Game Booster, you don't have to worry about warming up or slowing down your computer, as it will take care of all the unnecessary programs running in the background and will not hamper your game performance.
Overclock CPU & GPU
Overclocking refers to pushing computer components faster and faster than the manufacturer designed them. The initial tone is attractive. It acquires a slower and cheaper processor, increases clock speed. It's ready! You have an affordable, high-quality processor.
Of course, it is not that simple. Overclocking can speed up your system and save you money in the process, but only if you do the right thing.
The Smart Game Booster can be an excellent tool for improving your system overclocking.
Conclusion
If, as a gamer, you are concerned about the quality of your game and don't want to spend thousands of dollars on a new gaming PC, use this free game booster and enjoy games like never before. Today more and more players are using it, and it's time to use this great product as well. Please put it in your hands immediately, use it, and let us know what you think. We guarantee you won't be disappointed with the Smart Game Booster, no matter what.
Read More: Jazz Weekly Voice Offer Package (2020)
Follow INCPak on Facebook / Twitter / Instagram for updates.