The latest version of WhatsApp beta version 2.20.10, a messaging app owned by Facebook, shows that the company might be planning on releasing an animated stickers pack in the coming updates along with some more features.
This information was reported by WABetaInfo, a website that basically keeps a close eye on the service reporting all new features coming out and being hinted in WhatsApp beta and even the alpha and stable versions.
WABetaInfo tweeted about the stickers pack recently saying:
All Stickers Packs received a server side update from WhatsApp! Open WhatsApp > Chat > Stickers button > Plus icon and you see "UPDATE" for all packs you have previously downloaded. Reasons of the update are actually unknown. Maybe some improvements,
WABetaInfo also uploaded a video on their page showing the new new animated stickers feature in WhatsApp Beta 2.20.10. This is the link to the video.
Here are some picture to show you the new feature: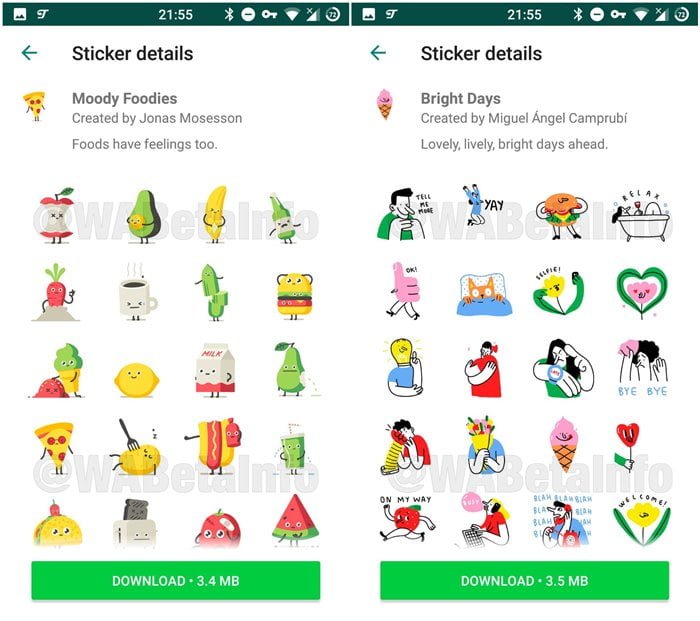 Other features include the Disappearing Messages feature that was spotted in the last WhatsApp beta and although it looked like it was going to be available to private chats a newer report by WABetaInfo revealed that the feature might only be coming to group chats and available to group admins to clean up old chats in the group that accumulate over time.
Read more: WhatsApp new features – Disappearing Messages, Dark mode.
Dark Mode or Dark Theme is probably one of the most awaited features and based on sources, it has been released to many WhatsApp beta users and is in a testing phase and we can expect it to be out very soon to everyone using the stable version.
Read more: Snapchat helps rescue US teen from kidnappers.
Follow INCPAK on Facebook / Twitter / Instagram for updates.