France has responded to statements by Prime Minister Imran Khan and Turkish President Tayyip Erdogan criticizing the 'Islamophobic comments' made by its President Emmanuel Macron.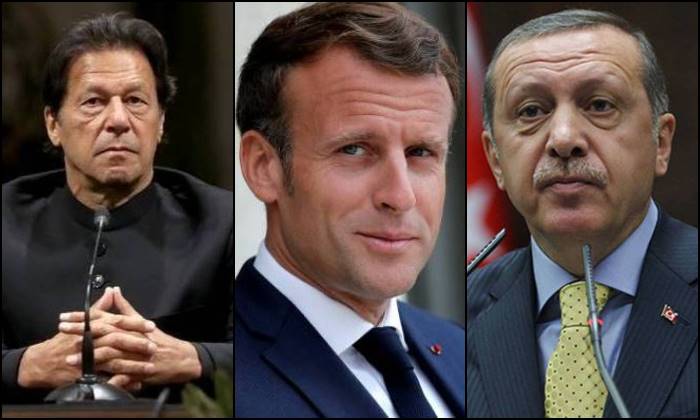 A statement issued by the French Interior Minister Gerald Darmanin aimed at Pakistan and Turkey told both countries not to "interfere in France's domestic affairs" while telling France Inter Radio, "It should shock each one of us that foreign powers are meddling with what is going on in France,"
Read more: PM Khan criticizes French President Macron over 'anti-Islamic' attitude.
It is pertinent to mention that Turkish and Pakistani parliaments have both passed resolutions condemning the 'anti-Islam' statements made by President Macron as well as the encouraging the display of cartoons depicting the Holy Prophet (PBUH).
Prime Minister Imran Khan has also decided to take up this issue at international forums amid the rising Islamophobia around the world especially in France.
Moreover, the premier said that he will be writing letters to the all Muslim leaders for support on the matter as no one should be allowed to disrespect the Holy Prophet in the name of freedom of expression.
Turkish president Tayyip Erdogan also voiced strong criticism over the 'anti-Muslim' attitude of the French president Emmanuel saying that he is in need of "mental treatment".
Boycott of French Products
Major Muslim states around the world have started campaigns to boycott French products as protest to the insensitive 'Islamophobic statements' made by president Emmanuel.
Some Arab countries have taken action and even removed French products from shelves in supermarkets and these include a number of food, cosmetics and hair products.
#BoycottFrenchProducts has been trending on Twitter worldwide as Muslims express their disappointment and anger towards the disrespect of the Holy Prophet (PBUH).
Read more: Calls to Boycott French Products Grow Worldwide.